Spaceheads
Please note this is an 18+ event
Spaceheads have been playing around the UK and Europe with Rucksack Cinema, promoting their new album "A Short Ride on the Arrow of Time". They return home to Manchester on Friday 22nd April.
Spaceheads will be joined by Paddy Steer and Mal Dino and as ever the room will be lit up with the projections of Rucksack Cinema
Tickets £5 in advance or £5 plus donation to the bands at the door
Doors 7.30pm
Spaceheads are a duo from the UK of Trumpet ,Drums and Electronics. They feature the Trumpet player from the Manchester band James -Andy Diagram. His hotwired trumpet produces live harmonised loops and breathy samples which he controls via a mobile phone attached to the top of his horn with a fish slice.
The thick brass layers created are propelled by Richard Harrison's drums, percussion and bent metal sheets.
Spaceheads formed in 1990 and have toured the world and released eleven albums to date.
A new album "A Short Ride on the Arrow of Time" has just come out on their own label, Electric Brass Records, following the release of "Sun Radar EP" in 2013 and "Trip to the Moon EP" in 2014
Over 25 years Andy and Richard have achieved an intuition of what each is about to do next which makes their semi-improvised gigs a joy to behold.
http://spaceheads.co.uk/
https://www.facebook.com/spaceheads/
https://www.youtube.com/user/SpaceheadsTV
Paddy Steer is a 21st Century one man music machine, with flashing robot head and homemade instruments – ancient synths, glockenspiels, crazy percussion laying down maverick grooves and rumbles.
"Sounds like a Swiss cuckoo clock made of egg boxes and horsehair, glued together by an African Moog player in a Vietnamese iron monger's shop" – Graham Massey (808 State/Toolshed).
His new album "Bifurcation Arrows Misleading Visuals" came out in January
https://paddysteer.bandcamp.com/
http://youtu.be/AGMNz6D_2PY
Mal Dino – Hard hitting songs from Cheshire's finest guitar picker. Marrying thought provoking lyrics with great melodies and his trademark guitar playing, his music is underlined with an 'acerbic' and sometimes sarcastic wit. Playing with the Mud Hutters in the 1970's and 80's through to many of todays younger bands Mal Dino combines innovation with invention as he engages a live looping machine. A new CD of recent recordings is to be released very soon.
https://youtu.be/W5piF2qTG0s
Rucksack Cinema will project and mix video to the music, creating strange and wonderful atmospheres throughout the room. He has created innovative live video imagery for Spaceheads gigs and other events since 1998.
You May Also Be Interested In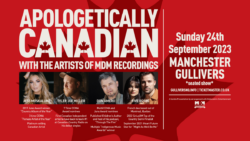 w/ Jess Moskaluke, Tyler Joe Miller, Don Amero, Five Roses
Buy tickets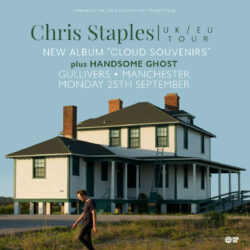 w/ Handsome Ghost
Buy tickets