Hey! Manchester presents Alice Boman [Cancelled]
Please note this is an 18+ event
It's a powerful feeling when you're in that world and you lose track of time,' says Alice Boman of the deeply hypnotic state she entered when making her mesmerising and long-awaited debut album, Dream On. This transfixed state is one that she also seamlessly plunges her listeners into. Her deeply textural, atmospheric and immersive sounds – coupled with her fragile yet engulfing and ethereal vocals – create something of a vortex that listeners are sucked in by. A world where ambient, dream pop and folk merge into a unique new form.
The profound sense of quietness that can be heard in her music stems from its simple roots. Initially a project that started at home when she was a teenager, the songs she was making were just 'sketches'. Yet as soon as other people heard them, it was clear that there was so much more to her talents than simple home tinkering. Two EPs followed, 2013's Skisser and 2014's EP II, as did a wave of critical acclaim and an array of TV placements for her music on shows such as Transparent, Wanderlust and 13 Reasons Why. With her new reach, the Swedish songwriter captivated listeners one-by-one.
A period of reflection and concentration on songwriting followed, as did a run of stirring one-off singles made with producer Fabian Prynn: Heartbeat, Dreams and End of Time. Boman now finds herself in a place far away from the artist she started out as. 'It's like two different worlds,' she says. 'I didn't even realise that this was something I could do for a living. Things feel a bit more certain now and it's nice to be able to dive into it fully.'
Despite her debut album feeling fuller and richer, as well as being her most accomplished work to date, Boman's intimacy remains intact. 'I didn't want to lose the nerve of intimacy,' she says. 'That's an important thing for me.' The songwriting for the album initially began in a similarly isolated and autonomous way. 'I took instruments and recording equipment to a house in the countryside of Sweden for a few weeks to get away from everything,' Boman says. 'To just focus on writing and playing. No distractions. Sometimes you need that distance to get into a flow.
You May Also Be Interested In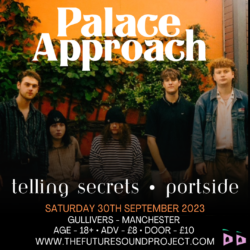 w/ Telling Secrets + Portside
Buy tickets