The Beauty Witch presents Alison Cotton
Please note this is an 18+ event
Alison Cotton presents The Portrait You Painted of Me, a new 6-track album –
her first for Rocket Recordings (released on Feeding Tube in the USA). Like
Alison's previous solo albums, the touchstones of her immersive sound are viola,
harmonium and voice, merged together to create a rich suite of songs.
'Mumurations Over the Moor' is a wordless piece of layered vocals, drifting
like fog towards a sunset over the green undulations of North East England (from
where she hails). 'The Last Wooden Ship' evokes the shipyards of Sunderland
using droning harmonium and viola lines, laced with piano and percussion
events, while her voice calls out like one of Tim Buckley's Sirens urging listeners
to a rocky demise. 'I Buried the Candlesticks' has a haunted, traditional feel
with its dolorously folky viola melody laid across a thick carpet harmonium,
and small bursts of percussion that sound like cannonade heard through the
thick cold walls of a castle in winter. 'That Tunnel Underground Seemed
Neverending' is a musical vision of Northumberland's mining culture at the
dawn of the 20th Century – labyrinthine, subterranean, dimmer than night.
'Violet May', the only traditional "song" on the album, was inspired by a trip to
Vita Sackville-West's Sissinghurst Castle. Its plot deals with a reclusive artist who
has forsaken all else for a life of solitary creation in her tower. The structure and
sound reminiscent of a post-modern approach to lyrical concerns dealt with by
folk singers of the British '60s, but the actual arrangement is closer to something
John Cale might have done with Nico on The Marble Index. The closing track,
'17th November 1962', inspired by nearly-forgotten memories of disaster with a
fishing boat, a storm and an ill-fated rescue attempt. The song (and album) ends
with what sounds like a forlorn foghorn cutting across waves of night with
Alison's voice again evoking the Sirens.
As with its predecessors, The Portrait You Painted of Me was recorded at home
in London, beautifully produced by Alison's partner, Mark Nicholas, and it
contains all the elements that result in the sombre, exquisite melancholy she
creates. This is some serious and remarkable stuff.
You May Also Be Interested In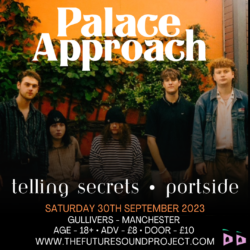 w/ Telling Secrets + Portside
Buy tickets