Alternative SXSW Showcase [Cancelled]
w/ Natalie McCool, Jekyll and Caiine plus special guest TBA
Please note this is an 18+ event
Show Stream TV presents a special alternative SXSW showcase event featuring some of the UK's best up and coming artists who were invited to play at this years' recently cancelled SXSW festival in Austin, Texas.
All the proceeds from this event will be split between the artists on the bill to help them recover some of their losses incurred from non-refundable flight and accommodation costs.
The event will be live video streamed from Manchester by Show Stream TV and San Francisco's Pressure Drop TV so you can watch it live and enjoy some of the UK's best rising stars wherever you are.
The showcase features some of the North West's most exciting new artists.
Natalie McCool
Liverpool's Natalie McCool who was due to perform at Hilton Garden Inn, shines as a major star in the UK indie world, having risen through the ranks and amassed a ton of organic support. Known for her truly innovative & beautiful take on pop music, 2016's 'The Great Unknown' made tastemakers across the board fans of her exceptional art; with notable supports with Aurora & Jamie Lawson, & acclaim from The Sunday Times, Q, Pigeons & Planes & Wonderland as well as BBC Radio 1 DJs Huw Stephens & Alice Levine.
Latest single 'Someone Nue' is a beautiful track made even more special by her incredibly vivid song writing. Simple textures & minimal soundscapes evoke feelings of fresh starts, a stellar backdrop for a voice that's soft yet so captivating.
Fully wrapped up, her forthcoming album is a fine collection of songs which channel her raw, inimitable writing style. Partly co-written with The Wombats' Daniel Haggis, they capture and crystallize her memories from both childhood and adulthood, weaving deeply intimate stories that channel life's most vital thoughts and feelings like love, jealousy and loss into a skewed mixture of lilting yet gloriously catchy pop songs.
These songs will set the tone for such an ambitious and exciting act.
Jekyll
Hailing from Blackpool were due to play at Edwins for Fierce Panda Records
"I love the intensity and I love the ambition of what Jekyll do" – Huw Stephens, R1
"Pretty Epic" -John Kennedy, Radio X
"Best thing yet I think from Jekyll" – Steve Lamacq
Jeykll consist of Joel Foster (vocals / guitar), Lewis Armistead (bass), Liam Singleton (drums) and Mike Spence (guitar).Fierce Panda saw Jekyll play not once but twice at The Great Escape in 2018 and were so smitten by a complex sound likened to grown-ups running from Radiohead to Editors they did the deal there and then by the sea. Jekyll have gone on to gain support from Huw Stephens who invited them to record a Maida Vale session for Radio 1.
Caiine
Manchester's Caiine was due to play at Beerland as part of the End of the Trail Showcase, Caiine began working with her current writing partner and producer in 2017. Their work can be characterized as mellow, synth-filled, alternative R&B,drawing influences from the roots of soul music and contemporary R&B.
Since her early childhood in South East London, music and performance have been Caiine's safe haven-her sanctuary when things fall apart. She also writes poetry as a form of escapism. Many of her poems have formed the basis of her lyrics.
Caiine is instinctively curious: whether it's the history of a word, the symbolism associated with a tree, or the reaction that happens inside a smoke bomb, Caiine is fascinated by the complex'inner workings' that come with being human.
A number other tracks have gained exposure by BBC Introducing, BBC 6 Music and other UK outlets.
This gig will see all three bands playing live in an intimate venue on Manchester's iconic Oldham Street. All profits from the gig will go directly to the bands, so if you support live music, please do make an effort to attend! If you can't attend in person, then we would love to share the music of these bands with you via our live stream wherever you are in the World!
Simply visit https://www.youtube.com/c/showstreamtv for details of how to watch online if you can't attend in person.
You May Also Be Interested In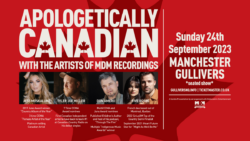 w/ Jess Moskaluke, Tyler Joe Miller, Don Amero, Five Roses
Buy tickets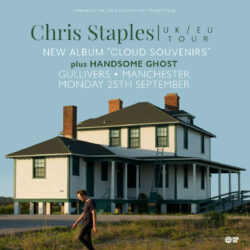 w/ Handsome Ghost
Buy tickets