Buckle & Boots presents Amber Kamminga + Sophie Hanson
Please note this is an 18+ event
Buckle & Boots are proud to present an evening of country music from Dutch artist Amber Kamminga and Swedish artist Sophie Hanson. Appearing in Birmingham at The Kitchen Garden Cafe on Oct 2nd and in Manchester at Gullivers on Oct 4th.
Tickets in adv £15 or £18 on the door.
Performances on the night will come from Amber Kamminga. Sophie Hanson and Gary Quinn.
Amber Kamminga:
It's no surprise that music from Nashville got to Amber Kamminga from the just as rural town Grootebroek, The Netherlands (population: 9,000). The (country)music of Jewel, Taylor Swift and Kacey Musgraves brought big dreams for the small town girl. After spending two years writing her bold but beautiful pop songs with that American sound, she released her first EP 'Star-Crossed Lovers' in March 2017.
The musical journey has taken her to great stages all over the Netherlands such as Paradiso, De Vorstin, Patronaat, PopEI, Sugarfactory and several national radioshows. She shared the stage with great acts like Darlyn, Rivers, Molly Burch (US), Emil Landman and Matt Winson. The girl from Grootebroek even got to play the famous Bluebird Cafe in Nashville, Tennessee. She got to document her Nashville adventure in vlogs for Viva Magazine.
"Kamminga sings like she was born and raised in Nashville – crystal clear with a twang"" – Here Comes The Flood
Sophie Hanson:
Sophie Hanson is a Swedish Country-Pop artist with a Nordic melancholic twist. Born & raised in Eskilstuna she grew up listening to old time classics like Johnny Cash, Aretha Franklin & Led Zeppelin. With a powerful, yet emotional voice she combines the best of old school and new age pop music.
In 2018 she had her big breakthrough with "So Long". It reached great success with heavy rotation on Swedish national radio followed by radio plays in USA, Canada, UK, Australia & India.
2019 she dropped her latest single "Die At 29", a song about how her own setbacks and failures in life made her fall so hard that it felt like she was going to die.
In the summer of 2019 Sophie was once again picked up by Swedish National Radio and she's now turning heads in the US and all over Europe.
You May Also Be Interested In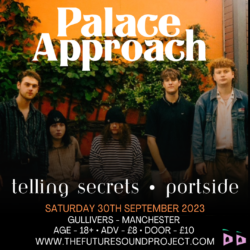 w/ Telling Secrets + Portside
Buy tickets