Scruff of the Neck presents Arcades
w/ Glue
Please note this is an 18+ event
Arcades burst at the seams with a confident, strutting style straight from the golden era of rock 'n' roll. The band's sound has no limits, their slower ballads examine a psychedelic state of mind that contrasts with their emotional but fast indie rock anthems.
Leicester-based, 2018 saw the five piece become four after the sudden passing of their guitarist at the end of their first ever UK tour. After a much needed break the group decided it was time for them to announce their 2019 comeback.
Their new single 'Kiddo' gave them a recognisable liftoff launching them back into the scene at the start of the year: catchy, prominent lyrics with vicious riffs that have enough arrogance to fill Wembley Stadium.
Loaded with a fresh new single backed by BBC Introducing and BBC 6 Music the band then embarked on a UK & European tour, including a breathtaking performance at London's famous Nambucca and an unforgettable sold out show in Paris at Le Supersonic supporting Spinn.
When playing live, Arcades are a rich, musical explosion. With his heart on his sleeve, lead singer Tommy owns the moment through raw emotion and passion that oozes from a place deep inside. Looking like a deleted scene from Scarface and with foot stomping rhythm the rest of the band are certainly not in the shadows when it comes to their pure talent and energy when playing to a live audience.
Now, with their mark made in the mud and with the release of their latest single 'Grande Rouge' – Arcades prepare to hit the UK and European venues once again, playing all major cities and delivering the infamous live show their fans simply adore.
You May Also Be Interested In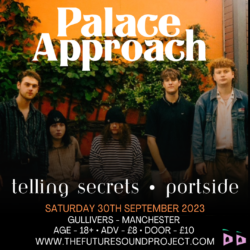 w/ Telling Secrets + Portside
Buy tickets