Astral Elevator Presents Desert Mountain Tribe, Deja Vega & The Strawberries
Please note this is an 18+ event
Desert Mountain Tribe
Emerging late in 2012 out of the ever-relevant cultural undergrowth of London town itself. Recording their début EP, an effort committed to tape in the trip-worthy surroundings of Shaken Oak Farm in Oxfordshire and subsequently mastered by none other Brett Orrison of The Black Angels, early in 2013- the result is a confident leap into genre-significance, with the bands time on the road since the disks release surely acting to supplement their new-found place.
Déjà Vega
Manchester's best kept secret on the psychedelic scene…
The Strawberries
The Strawberries are a psychedelic-blues band from Leeds, already causing quite a stir on the scene in the short time they've been around, their influences include The Byrds, The Beatles, David Bowie, The Doors, and The Rolling Stones.
Lavender
five piece psychedelic rock band from Manchester, a reincarnation including members from Saturn Grove
You May Also Be Interested In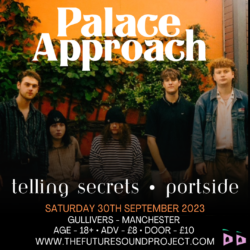 w/ Telling Secrets + Portside
Buy tickets