At Home With Lilac EP Launch Party [SOLD OUT]
w/ Liquid Beach + Psychederek
Please note this is an 18+ event
At Home With Lilac: From the not so sunny Bolton, Lois and Isaac; Lilac – merge their vast influences to create something bright and familiar. Taking influence from the genres of Neo-soul, RnB and Alt rock they use layers to create a whole new soundscape. At Home With Lilac uses a mixture of live instruments including Isaac's dreamy and melodic guitar complimented by the delicate yet mighty voice of Lois. Together with pre-recorded elements they create a truly immersive sound.
Liquid Beach: From the shore to the streets, Liquid Beach is a project born from a shared love of all things that groove. The production trio from Manchester honed their craft of carefully blended jazz, soul and house through the vibrant and diverse scene of the northern city. Calling upon their diverse influences they aim to seamlessly blend the lines between live instrumentation and electronic production. Songs that sound just as at home on sandy beaches as they do in the darkest of night clubs.
Phsychederk: From the intergalactic region of stretford comes Psychederek, a project born from the mind of Lewis Olsen. His music takes influence from alternative rock and electronic dance music finished with a sprinkling of mind bending psychedelia. Psychederek blends live instruments such as guitars and acoustic drums with electronic music to create a unique fusion of sounds. The result is dreamy and ambient, but also weighty and hard hitting.
You May Also Be Interested In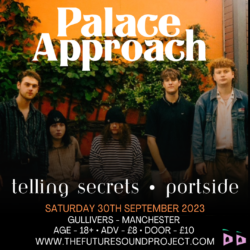 w/ Telling Secrets + Portside
Buy tickets