AT THE SUN – The 'Leave Before The Light' Tour
With guests The Howling Tides & Midnight Drive
Please note this is an 18+ event
Picture a scene: The Black Crowes sharing a beer with Black Stone Cherry, whilst AC/DC and Guns N' Roses play pool in the corner. That'll give you an idea of what to expect from AT THE SUN! Five focused and expressive London guys, mixing up heavy dirty guitars, pounding rhythms, soaring vocals and ripping solos to make one of the UK's brightest new bands.
In a world of social media madness, instant gratification, constant notifications and everyone's 15 seconds of fame, AT THE SUN focus on one thing: creating powerful, long-lasting music.
'For us, it's all about making music people can move to – music they can really feel!' says founder Kieron Heavens. 'We don't buy into the idea of just getting things out there quickly; we take our time to make sure everything we do is the best it can be.'
After a long (and often frustrating!) search for the right musicians, Harry Dale (Vocals), Alex Matthews (Bass), Chet Jogia (Lead Guitar), Craig Steen (Drums) and Kieron Heavens (Rhythm Guitar) released their debut EP in 2017, gaining radio play on the likes of Planet Rock, Hard Rock Hell and Total Rock amongst others. Described by critics as being "head and shoulders above other bands in the contemporary rock scene" and "a band you don't want to miss out on", the lads knew they were onto something with their unique flavour of rock 'n' roll.
2017 and 2018 have seen this up-and-coming band build a strong following around the UK by doing what they believe in, engaging with their fans wherever they go. An AT THE SUN show is not just about the time the band are on stage, it's about meeting fans, sharing beers and making sure everyone enjoys the experience. As frontman Harry explains, 'We want fans to be the driving force for the band, including them in the journey all the way, so we are all one with the music.'
In early 2018, despite their tender years as a band, AT THE SUN gave it their all to come third in the Hard Rock Hell Highway To Hell competition, competing against over 200 other bands, culminating in a live final at the O2 Academy Sheffield. What made this so special was the fact that the competition was voted for by the fans: a testament to the relationships and following the group have worked so hard to build.
The next chapter looms on the horizon, with the debut album Leave Before The Light scheduled to be released in early 2019, followed by a headline tour. This will be their biggest tour yet, hitting more cities, meeting more people and bringing them one step closer to realising their dream – to play the music they love to their fans across the world.
AT THE SUN is rising!
You May Also Be Interested In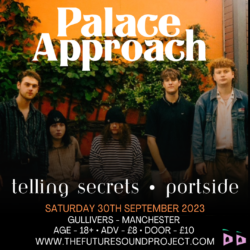 w/ Telling Secrets + Portside
Buy tickets