BALDER presents: "MIND THE GAP"
Please note this is an 18+ event
A night of local independant music, curated by BALDER
—————
BALDER &
Rachel Rimmer &
Edits &
Special Guest TBA
4 £ presale
5 £ door
—————
CONFIRMED ACTS:
EDITS
Edits are Liv Westhead (Vocals & Synths) and Chris Abbott (Guitars & Programming), an atmospheric rock duo from Manchester. Formed in 2013 whilst studying Popular Music & Recording at Salford, Edits have been crafting and tinkering over the past few years to achieve the unique sound they have today.
Edits take an independent, D.I.Y approach to their music, recording and producing everything themselves, offering a refreshing take on the post-rock genre.
We are very, very happy to present this wondrous act, and to announce their participation as a most welcome addition to "Mind the Gap".
http://www.editsband.com/
https://www.facebook.com/editsband
https://soundcloud.com/editsband
_______________________________
RACHEL RIMMER
A gifted guitarist, and exceptional singer, Rachel writes songs that are not only strikingly intimate, but also intensly relatable. By drawing inspiration from the smaller things in life, and turning them into beautiful sentiments, she approaches the seriousness of her topics with both great detail and charm.
Gracie Gladstone lauds Rachels presence in a live setting: "Her performances are full of grit and full of harshness; the harshness of reality . . .". It is powerful, slightly wistful, and an ideal example of the beauty found in her music.
We are proud to announce her participation as an honourary featured artist of "Mind the Gap".
https://www.facebook.com/rachelrimmermusic/
//
http://www.soundcloud.com/rachelrimmer
_______________________________
BALDER
Five years ago, I started writing what would become the foundation for the songs submitted in my first university portfolio. They were about going somewhere, not knowing fully where, just someplace else. When I moved to Salford a year later, I brought them with me.
Over the years, the songs have twisted and turned. Some things added, some stripped away. I guess I like to think that they too have been through life in some way.
On SoundCloud you can find a demo of one of those songs, titled "Spring.". For the next few days before the show, you can download it for free.
I'm really proud to finally get an opportunity to perform together with my friends on April 12. We hope to see you there
https://www.facebook.com/balderrr/
//
https://soundcloud.com/balderroug/spring-demo
_______________________________
ADDITIONAL ACTS TO BE CONFIRMED SOON
You May Also Be Interested In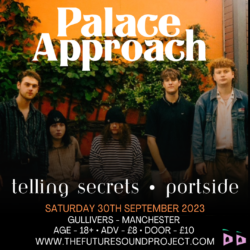 w/ Telling Secrets + Portside
Buy tickets