Belles and Gals presents Jade Helliwell
Please note this is an 18+ event
Jade Helliwell is a singer / songwriter from West Yorkshire, England.
Her style is a notably British blend of pop and country, influenced by the likes of Taylor Swift, Patsy Cline, Dolly Parton, Maren Morris and Kelsea Ballerini.
A passionate song-writer, Jade crafts her lyrics through her own observations, with a running commentary on life, love and friendships.
Over the last few years, she has performed alongside some of the biggest names on the scene, appearing regularly at music festivals including Country to Country (C2C), Buckle and Boots, FSA Festival, and Country on the Clyde. More recently she has the opportunity to open for Sam Palladio and Frankie Davis at the prestigious Nashville Meets London festival, in Canary Wharf.
You May Also Be Interested In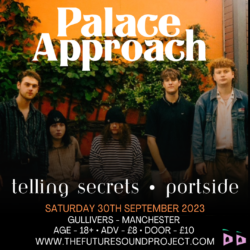 w/ Telling Secrets + Portside
Buy tickets