Billy Liar & Freddy Fudd Pucker
Featuring FRASER MURDERBURGER & JORDAN (INCISIONS)
Please note this is an 18+ event
In the run up to Billy & Freddy performing a play at the Edinburgh Festival for the majority of August 2017, they once again hit the road in the UK to rip your ears off and share some stories and good times with you in July.
BILLY LIAR –
Scotland's finest angry and articulate guitar-slinging storytelling songwriter returns to Manchester following his solo performance at Manchester Punk Fest and full band slot at 0161 Festival, in support of his long-awaited forthcoming full-length LP. Billy has spent the last twelve years releasing a slew of well-received and critically-acclaimed EPs and singles, touring relentlessly across the globe including extensively through the USA, Australia/New Zealand and all corners of Europe, sharing stages with everyone from Steve Ignorant of Crass to AJJ, Withered Hand, TV Smith (The Adverts), Joe McMahon (Smoke Or Fire), New Model Army, and countless more.
It's our distinct pleasure to welcome him back to Manchester. You know the drill; urgent, teeth-rattling, engaging, thoughtful sing-a-long acoustic punk rock goodness and bangers by the bucketload.
(Description borrowed from Make That A Take Records).
www.billyliarmusic.com/
https://officialbillyliar.bandcamp.com/
FREDDY FUDD PUCKER – Freddy Fudd Pucker is a one-boy-band who plays a form of folk/thrash or something. No two shows are ever the same. EVERYTHING FASTER THAN EVERYTHING ELSE. Shrugging off seemingly inevitable Carpal Tunnel Syndrome just to play faster, the newer material seems to be taking him further into the depths of folk/thrash. Distorted guitar loops, banjo, a suitcase kick-drum and a voice that sounds like it belongs to a disenchanted twenty-something-year-old boy running through a world war III age. Shows are high-energy, chaotic and at times funny. The border between performer and audience blur making every show memorable.
https://freddyfuddpucker.bandcamp.com/
WITH EXCELLENT SUPPORT FROM:
FRASER MURDERBURGER
Acoustic set by Fraser from The Murderburgers. Come for the heartwrenching lyrics, stay for Joosy boi.
https://themurderburgers.bandcamp.com/
JORDAN (INCISIONS)
Solo set by Jordan from Manchester's own Incisions, well known for their hardcore sound and gritty lyrics.
Grab a copy of Incisons' new EP 'Quit Now'.
https://incisionsmcr.bandcamp.com/
You May Also Be Interested In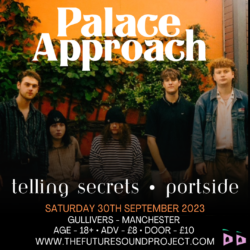 w/ Telling Secrets + Portside
Buy tickets