Blizzard: A Comedy Safe Space
Featuring Amy Gledhill, Brandon Craig, Tony Wright, Amy Vreeke, Red Redmond, Pete Selwood & Jonny Collins
Please note this is an 18+ event
At Blizzard, we aim to provide a genuine alternative to mainstream clubs. Our ethos is to be an Inclusive, Accessible & above all Hysterical comedy club.
We aim to provide a comedy space that is safe for all, and as such we have a strict content policy on: No Racism, Sexism, Homophobia, Transphobia, Classism, Ablism, etc. And we make every effort to content warn any potentially triggering material that may take place.
Afraid of being picked on? At Blizzard there is no unsolicited audience interaction – if you agree to take part in audience participation, you may get a sticker at the door, otherwise, no one will pick on you.
Our pilot night features the one and only Amy Gledhill headlining: Known for her unique mix of everyday observations and off-beat tangents, Amy is a multi-award winning comic brimming with natural warmth and charm.
Amy is also one half of The Delightful Sausage, a critically lauded comedy double act who were picked as one of the top things to see by The Guardian.
"Silly, vivacious and very funny." – Richard Herring
"One to watch" – The Evening Standard 
"Has them in hysterics with a look" –The Skinny
Supporting Amy we have some of the best local up and coming talent, in the shape of:
Brandon Craig   "Brandon Craig is a compelling act to watch." (From The Margins)
Tony Wright "Great Gags" – Chortle
Amy Vreeke "Amy is a really promising up and coming comic. Confidence beyond her years with a solid set." – Gregor Burns, Chortle Kombat
Red Redmond  "A f*cking pro! A top-class on-point example of a Drag Comedian" ScotsGay
& Pete Selwood "A man with swagger, it isn't misplaced either " Notts Comedy Review
Hosted by Jonny Collins: An unapologetically genderqueer act, whose fast paced, high energy style lends itself well to their brand of whimsical ramblings about gender and sexuality preconceptions. A Chamption of Queer Punk comedy. "The New Monster God Of Comedy" (Tim Ferguson)
You May Also Be Interested In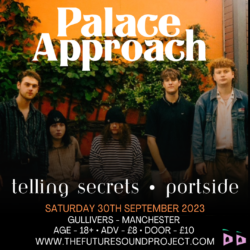 w/ Telling Secrets + Portside
Buy tickets