Blizzard Comedy: A Comedy Safe Space
Please note this is an 18+ event
Manchester's new aggressively inclusive comedy club is back!
Our aim is to provide a comedy space that is safe for all, and as such we have a strict content policy on: No Racism, Sexism, Homophobia, Transphobia, Classism, Ablism, etc. And we make every effort to content warn any potentially triggering material that may take place.
Afraid of audience interaction? At Blizzard there is no unsolicited or forced audience participation – if you agree to take part in audience participation, you may get a sticker at the door, otherwise, you can rest assured knowing that no one is going to pressure you into getting directly involved.
Skint? That's okay! Reserving tickets is Completely free! With optional donations accepted in cash on the day, or subscribe to our patreon for extra goodies! https://www.patreon.com/blizzardcomedy
Our headliner is the ever lovely HARRIET DYER
Harriet Dyer's been full-time at this stand-up malarkey since 2013. She regularly gigs up and down the UK and has been lucky enough to gig all over the world.
Harriet's done the majority of the UK festivals and big clubs, although sadly the thing she seems to be recognised the most from is when she went on Dinner Date eight years ago and didn't cook the chicken properly thus giving her date the shits.
Harriet also presents the, "Don't Worry, Bi(polar) Happy" podcast which is available on iTunes, Spotify, Podbean and Stitcher etc. It was on the new and noteworthy section on iTunes for six weeks and has recently been recommended to patients at various mental health hospitals.
"Dyer exists in a joyful equilibrium, at the point where self-depreciation and a total embracement of oddness meet in utterly likeable harmony… Beautifully, brilliantly weird… Absolutely worth a watch" – Broadway Baby
"She's got funny bones" – Kevin Bridges
"It was refreshing to see such a vibrant young woman host in an all male stand-up show; Dyer made the audience feel at home and managed to wow the crowd…
Loveable and delightful" – Three Weeks
Featuring support from:
Khalid Winter
(No) Money In The Bank
Chris Harley
&
Adam Elmi
You May Also Be Interested In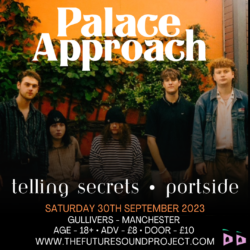 w/ Telling Secrets + Portside
Buy tickets