Blizzard Comedy LIVE, featuring Cerys Bradley [Lounge]
Please note this is an 18+ event
OH LOOK ANOTHER BLIZZARD!! Come join us at Gullivers NQ for another belter of a show with Manchester's most inclusive comedy.
Featuring:
Headline Act Cerys Bradley
Cerys (as seen on…) Bradley (BBC One Wales) is (Quantum Leopard) an autistic (Champion of Champions) non-binary (2021) goofball (with a love of puppets) Amused Moose (and audience participation) semiFINALIST (2020) but in a nice way. They won the Neurodiverse Review's first ever award for Actually Austic Excellence and got a letter from Nicola Sturgeon.
"The raw, personal feeling they successfully convey is worth a thousand culture war column inches". – Fest Mag
"very funny…Cerys gives so much of themselves." – * Neurodiverse Review
"Cerys has a beautiful, whimsical mind with an expertly honed delivery that is the perfect vehicle for some of the best gags I've heard in years." – Kiri Pritchard-McLean for The National Wales
"Bradley comes across occasionally as a slightly awkward performer, perhaps given the autism" – Darkchat
With support from
Will Preston
Will Preston has been performing comedy since 2016 all across the UK and the US. He is a regular at the top comedy clubs on the London scene and is also the co-host of the award-winning Marvel Versus Marvel podcast.
"Slick, surprising, and acutely aware" – Objectively Funny
"Very funny geezer. Guaranteed laughs!" – Lenny Sherman
"Energetic and lovable" – Joey Page
"Edgy, distinctive voice" – Sadia Azmat
"Fearless, oozes confidence" – Nathan Cassidy
Mark Nicholas
Autistic Act who likes to take the stereotypes of Autism and turn them in on their head. A mixture of surrealism and standard joke telling to keep the audience entertained. Runs a 5 Star Disability and Mental Health Night called Laugh-Able and have had amazing headliners such as Andrew O Neil, John Robertson and Rosie Jones . Won King Gong Comedy Store Manchester which has led to regular spots at The Comedy Store in London and was recently Nominated for Neurodiverse Reviews Best Actually Autistic Act Award Edinburgh 2022. In addition I was a regular feature on The Disability Taskmaster Gameshow the Blue Badge Bunch as part of Edinburgh Fringe 2022 which received a 4 Star Review from Three Weekly
"An autistic comedian that always brings his a-game. Mark uses his innate likeability to deliver dark humour alongside killer lines. He keeps the audience enthralled, though leaves them uncertain whether they're going to burst out laughing or recoil in shock. Mark's a great addition to any comedy night and a must-watch up-and-comer" – Late Stage Comedy
Saeth Wheeler
Saeth is still brand-new to comedy, and hasn't exactly worked out what they're doing yet, but that hasn't stopped them from doing it. Enough tangents to make a maths geek frown, supplemented with a heavy dose of lesbianism.
"The rampant socialist lesbian the government keeps trying to warn me about" – their friend
"There were at least three jokes in there" – another comic
And Benny Shakes
Benny Shakes is a powerhouse of 'funny' built on a foundation of clever joke writing, from the daily struggles of living with a disability to his observations on redneck life. Benny is a relatable and affable comic who 'raises the roof' every time.
He does several shows online, Benny Shakes Things Up. and five-star reviewed gameshow The Blue Badge Bunch. He is booked to do several fringes around England in 2022/2023.
"Benny is superb. Great crowd interaction, solid material and a strong stage presence." – Graeme Rayner
"Warm and very infectious. From the moment he walks on stage Benny fills a room with his presence" – Steve McLean
With Host Jonny Collins
Jonny Collins is an aggressively inclusive Non-Binary comedian, Jonny pulls no punches yet makes everyone feel welcome and represented in their thought provoking, and well constructed deconstructions of gender, sexuality and politics. With radical leftist ideals and a fast and furious delivery style, Jonny Collins is a favourite of socialist, anarchists, feminists (of the trans inclusive variety), and queer activists alike.
"Jonny is a force of nature on stage. A whirlwind of hilarity with a unique viewpoint, they energy and passion personified." – XS Malarkey
"Jonny Collins is deceptively rapid-fire, with a gag rate that would shame most one-line merchants. They can bring a simmer to a boil with ease, and make a huge mess of your kitchen." – James Ross (Quantum Leopard)
You May Also Be Interested In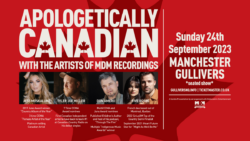 w/ Jess Moskaluke, Tyler Joe Miller, Don Amero, Five Roses
Buy tickets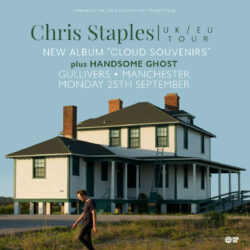 w/ Handsome Ghost
Buy tickets