Blizzard Comedy LIVE, featuring Charlie George
Please note this is an 18+ Event
*GULLIVERS LOUNGE*
OH LOOK ANOTHER BLIZZARD!! Come join us at Gullivers NQ for another belter of a show with Manchester's most inclusive comedy.
Featuring:
Headline act
Charlie George
Charlie has performed stand-up on BBC Asian Network Live and the BBC's No Country for Young Women Podcast, as well as appearing on Comedy Central in Rhod Gilbert's Growing Pains.
A talented and accomplished writer Charlie was chosen to feature in Charlie Brooker's writers room for Cunk & Other Humans 2019, The BAFTA nominated AntiViral Wipe 2020 and Death to 2020 & 2021 for Netflix. She has written for the C4 Election night special, 8 out of 10 cats, Hypothetical, Newsjack, The Now Show, Have I Got News For You, Joe Lycett's Got Your Back & Frankie Boyle's New World Order.
Charlie established her own comedy night Crack-Up Comedy Cabaret at The Glory in London in aid of Hackney mental health charity Core Arts and gigs all across the country. She was the host of an Audible original podcast series exploring evidence-based solutions to improving wellbeing & mental health with anthropologist Mary-Ann Ochota called  'Happiness & How to Get It.' Because her preferred title 'Despair & how to release its death grip,' wasn't "a viable option."
Runner Up
So You Think You're Funny 2019
Funny Women Awards 2019
With support from
Kitty Messalina
Kitty Messalina is a comedic triple threat – a queer woman of colour. Her unique perspectives on prejudice, promiscuity and polyamory quickly earned her a nomination as a Finalist for the NCF New Act of the Year Award 2019. Despite being a relative newcomer to the circuit, she has performed with greats such as Rosie Jones and as tour support for Shaparak "Shappi" Khorsandi. Kitty is currently working on her debut solo show, "Is This Thing Turned On?" where she ponders identity politics, problematic crushes and Alexander Hamilton; her WIP performance of this was a sold out success at the Nottingham Comedy Festival 2021.
"Very good and original material. She delivered this with an honesty and vivacity that really drew everyone in. There was a lot of laughter." – Notts Comedy Review
Nathan Viricia
Manchester-based. Probably the second most famous comedian from Harrogate behind Maisie Adam. Admittedly, I can't think of any others off the top of my head.
Formerly a musician of 15 years. Then I hit 30, realised I couldn't be arsed anymore & decided to do comedy instead.
The comedy equivalent of Elvis Presley's last bowel movement; morbid, horrible, difficult to sit through, darkly hilarious and performed by a great artist.
"Comedy with a cutting political edge that hits its targets." – Simeon Word (Lancashire Post)
"Hilarious. A natural talent in high demand." – Kevin O'Brien (Gold at the Bijou Cinema)
and
Patrick Healy
Patrick Healy is an Australian comedian and nice man. His dry, left-field observations, relaxed stage presence, and "idiosyncratic worldview" (London Evening Standard) led to finals appearances in the prestigious So You Think You're Funny and Hackney Empire New Act of the Year Competitions, all while he was still a teenager. Now that he's an adult, Patrick is a regular face at some of the country's biggest comedy clubs, which he thinks is pretty cool.
"His down-to-earth, self-deprecating humour has the crowd in stitches. Cutting a relaxed figure on-stage, he always has a small smile across his face as the audience laugh at almost everything he has to say. It is a strong guest appearance that adds variety to the show." – Wee Review
with host
Jonny Collins
Jonny Collins is an aggressively inclusive Non-Binary comedian, Jonny pulls no punches yet makes everyone feel welcome and represented in their thought provoking, and well constructed deconstructions of gender, sexuality and politics. With radical leftist ideals and a fast and furious delivery style, Jonny Collins is a favourite of socialist, anarchists, feminists (of the trans inclusive variety), and queer activists alike.
"Jonny is a force of nature on stage. A whirlwind of hilarity with a unique viewpoint, they energy and passion personified." – XS Malarkey
"Jonny Collins is deceptively rapid-fire, with a gag rate that would shame most one-line merchants. They can bring a simmer to a boil with ease, and make a huge mess of your kitchen." – James Ross (Quantum Leopard)
You May Also Be Interested In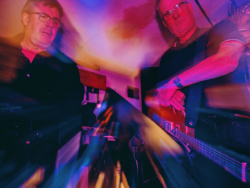 w/ Dark Fidelity Hi Fi + Mindcrime Cafe
Buy tickets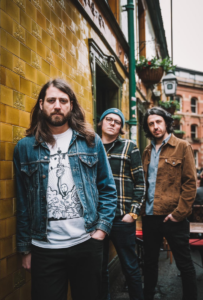 w/ The Be Positives + Springfield Elementary
Buy tickets