Blizzard Comedy LIVE featuring Foxdog Studios
Please note this is an 18+ Event
We're a bit of the way into 2023 and we're still alive so far, so that's good. Something else that's good – very bloody good actually – is our next live show!!
Join us at Gullivers on March 13th for a stacked show, featuring:
Headline act
Foxdog Studios
Lloyd and Peter are computer programmers turned live performers. They try to make the computer fun again and hope to flog their latest inventions to live audiences around the UK. heir live show, "Robot Chef", was a sell-out at the Edinburgh Fringe and had viewers cook sausage and beans by controlling a robot on their phones (a highlight being firing a hotdog from a cannon).
As seen on Channel 4 UK, featured in WIRED Magazine UK and heard on BBC Radio 4 Extra. Listed in The Independent's Best of the Fringe 2018. Winners best show at Leicester Comedy Festival 2019, the Chortle Award for Innovation 2016 and two Malcolm Hardee Awards in 2016.
"If you don't enjoy their brand of techy musical comedy, there must be something wrong with your hardware" ★★★★ Time Out
"No telly chef has ever made the preparation of this dish as thrilling and hilarious as these guys." The Scotsman
"Ridiculous, unique and so funny your face will hurt" ★★★★★ The Skinny
"A huge treat for everyone" ★★★★ The List
With support from
Richard Stott
UK's top comedian with one disabled hand. As seen on ITV2 Stand Up Sketch Show, Comedy Central Live. The Times Best Jokes of The Fringe 2022.
"Directionless … Could be one to watch" – The List
Katie Gill-Williams
"Endearingly friendly and gregarious" (Chortle)   Beat The Frog World Series finalist 2022, Katie, is working towards being her best self by using Stand up as the therapy she can't afford.
"Katie is remarkable. She managed to nail the material, confidence and warmth of a pro comic in ten gigs when most take ten years. Joke heavy and joyful stand up packed with smart observations." – Kiri Pritchard-McLean
and Charlotte Cropper
Charlotte Cropper is an up-and-coming comedian who performs with a playful and personable style, laced with wit and whimsy. She is a Supported Artist at the New Adelphi Theatre, a 2021 Chortle Student Comedy Award Finalist, and an alumnus of the University of Salford's Edinburgh Stand-Up Showcase SalFUNNI.
She cannot wait to overshare with you at Blizzard Comedy Live!
"grabs your attention and holds it" – Notts Comedy Review
"thoroughly engaging presence" – Chortle
"viscerally relatable" – The Meteor
with host
Jonny Collins
Jonny Collins is an aggressively inclusive Non-Binary comedian, Jonny pulls no punches yet makes everyone feel welcome and represented in their thought provoking, and well constructed deconstructions of gender, sexuality and politics. With radical leftist ideals and a fast and furious delivery style, Jonny Collins is a favourite of socialist, anarchists, feminists (of the trans inclusive variety), and queer activists alike.
"Jonny is a force of nature on stage. A whirlwind of hilarity with a unique viewpoint, they energy and passion personified." – XS Malarkey
"Jonny Collins is deceptively rapid-fire, with a gag rate that would shame most one-line merchants. They can bring a simmer to a boil with ease, and make a huge mess of your kitchen." – James Ross (Quantum Leopard)
You May Also Be Interested In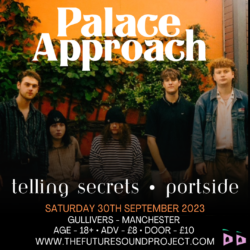 w/ Telling Secrets + Portside
Buy tickets