Blizzard Comedy LIVE, featuring Ishi Khan [LOUNGE]
Please note this is an 18+ Event
OH LOOK ANOTHER BLIZZARD!! Come join us at Gullivers NQ for our last live show of 2022!!
Featuring:
Headline act
Ishi Khan
Multi-award nominee, Ishi Khan has been making people laugh since her birth. She came out crying, to everyone else's laughter. Her comedy cv began in 2008 when she started hosting her own 2 Funny Comedy events. She has been performing regularly on the comedy circuit ever since.
Ishi responds to current affairs through themes of unity, freedom & equality while exploring identity and belonging.
Ishi is a sentient being born to tickle, play and sing to the moon. Skipping along on the comedic yellow brick road, dancing through rain, sun and fairy dust, distracted by rainbows and shooting stars, she's a unicorn rider. One day she hopes to do a cartwheel and ride a bike, not at the same time. She speaks English, Punjabi and fluent Cat.
"Engaging Raconteur" – Three Weeks at Edinburgh Fringe
"Side-splitting! rib-tickling!" – Loughborough Echo
with support from
Eliott Simpson
Eliott Simpson is an eccentric autistic asexual and a critically acclaimed comic, having gigged all across the UK and USA for over 6 years! They're the Host of the Award-Nominated "The Diversity Quota" comedy night, have had multiple sell-out festival shows, were nominated for the 'Actually Autistic Excellence Award' in 2022, and have performed on shows for both BBC Scotland & BBC Radio!
Within the vast sea of sexy and raunchy comedy, Simpson is the only one who can give you a coming out story without the cumming! With surreal one-liners and witty wordplay, they're the one of the most peculiar and unique acts on the circuit!
"Absurd and accessible" – Norwich Radical
"Informative and hilarious" – ArtsYork
"Offbeat, wacky and unpredictable" – The Wee Review
"Infectiously funny" – The Indiependent
"A fully-formed stand-up" – Neurodiverse Review ⭐️⭐️⭐️⭐️
"The most charming comedian you will ever meet" – EdfringeReview ⭐️⭐️⭐️⭐️
Craig Wilson
Craig Wilson is a nice boy. That's the reputation he's gained in his years of doing comedy and his weekly phone all to his gran at least. Craig's act mixes everyday scenarios with absurd 'shower-thoughts,' somehow making him extremely relatable and a total enigma at the same time. Recently featured on BBC Scotland's #CancelKarenDunbar programme and in publications like Scotland on Sunday and The Skinny as part of his famous gameboy pop band King Wine.
"Wilson is a stand-up comedian" – Scotland on Sunday
"As pure innocent and hilarious as they come" – The Diversity Quota
and Maxine Wade
Maxine Wade is a promising rising star of the Northern comedy circuit, a bold and charismatic performer, Maxine mixes left wing political commentary with anecdotes about her life as an  NHS nurse. Sharp, smutty and with a high gag ratio, Maxine even has 4 or 5 jokes that aren't about her genitals.
"A bit cheap" – Chortle
"An avalanche of filthy and fury" – Toolmakers Comedy Club
"Funny bones" – Rich Wilson
with guest host Tom Short
Tom Short is an award winning comedian that has a burning desire truly to entertain.
Tom's genuine friendliness has earned him fans with almost everyone he comes across who fall in love with his charm, energy and quick wit. Tom is cut from a different cloth coming from Salford, being brought up working class and having meager beginnings in an environment that stamped out differences and creativity, he rose through this and is authentically himself for all to see and this endears him with every audience member he performs in front of this has been described as'Stealth comedy. The best kind' (The Skinny).
"Impossible not to love" – HopScotch Friday
You May Also Be Interested In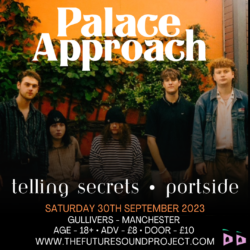 w/ Telling Secrets + Portside
Buy tickets