Blizzard Comedy presents WIP shows by Eryn Tett and Edy Hurst
Please note this is an 18+ event
*GULLIVERS LOUNGE*
Our final pair of Fringe previews for this season will showcase the latest works of two of the most creative and whimsical performers we've ever had the pleasure of knowing. Please please PLEASE do not miss your chance to catch:
Edy Hurst's Comedy Version of Jeff Wayne's Musical Version of HG Wells' Literary Version (Via Orson Welles' Radio Version and Steven Spielberg's Film Version) of the War of the Worlds
If you're not convinced by the title I have no idea what this is going to do. As seen on MTV UK, BBC Radio 4 Extra, NextUp Comedy. Nominated for BBC New Comedy Awards 2017, Nominated for Best Alternative Act, North West Comedy Awards 2022 and Musical Comedy Awards finalist 2021. 'Bursts with comedic joy' **** (Skinny). 'Funny. Quirky, Deep. Seamless' **** (Lancashire Evening Post). 'Delightfully silly songs' (TheWeeReview.com).
and
Eryn Tett Finds Her Audience.
VOLUNTEERS NEEDED FOR VERY IMPORTANT SCIENTIFIC RESEARCH*.
With a style that toes the line between straight standup and absurdism, classic misfit and newly proactive Eryn Tett ( Funny Women Stage Award Runner up 2021 / Cherry Comedy Breakout Act of the Year Winner 2020) is collecting important data in search of 'her audience.' A bizarre exploration of her own thoughts; expect word play, odd observations and surreal storytelling set to a charmingly uncomfortable rhythm, as Eryn takes an entirely literal approach to the sage advice: 'find your audience.'
*data may be for research purposes.
You May Also Be Interested In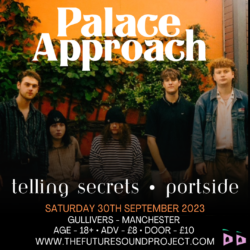 w/ Telling Secrets + Portside
Buy tickets