Cattle & Cane
Please note this is an 18+ event
Patience is a virtue often overlooked in music. Whilst the true story of many artists involves years of learning their craft we much prefer the idea of the instant genius, inspired lightning bolt style with the perfect song.
Cattle & Cane's Joseph Hammill has spent much of his life kicking against convention, so it is little surprise that he refuses to build an alternative history for how his band, Cattle & Cane, took five years from feted performances in their Middlesbrough hometown and 2010's T In The Park via support from the BBC Introducing team to produce their debut album, 'Home'.
'I didn't feel my songs were ready', he offers, matter of factly. 'I was just about to start Uni and Helen hadn't even got her GCSE results yet. T In The Park was a great experience, but looking back, it was probably a bit too much too soon.'
It's the kind of story that generally ends with the band packing it in or changing their name and reforming and restyling, but Cattle & Cane are notably different from your average band. 'We've grown up a lot over the past couple of years and really focused on our songwriting' suggests co-vocalist Helen. 'We carried on playing and finding people who liked our music.' Given that the band have racked up over one million plays on Spotify and are now looking at a thousand capacity sell out show at Teesside University, there would seem to be ample evidence that such an approach was the right one.
Beyond their disregard for the conventional approach to making a band work, there is an even stronger bond at the heart of Cattle & Cane: that of family. Joe, his sister Helen and brothers Fran and Vin make up 4/5ths of the band, with family friend Tom Chapman being the odd one out. Again, family band convention, that of the warring Gallaghers and the Davies' runs counter to the Hammill experience, a haven of harmony and mutual support, bolstered by 'our mam' and a further five siblings behind the scene.
Little wonder that the debut should end up being titled 'Home' then, Joe drawing on that family upbringing, childhood and the transition to adulthood to frame an album of twelve songs that flow from the intricate drive of opener 'Skies', blending War on Drugs licks to a rousing dual vocal chorus, through the tribal rhythms of 'Belle' to the sumptuous balladry of 'Red' and the gossamer campfire flicker of 'We Were Children', a stripped down exemplar of the power of voice and guitar unhindered by extra instrumentation save for a touch of colliery brass.
Given that we have a songwriter who is 'not scared of writing songs that give you hope and are accessible' the album also features plenty of potential singalong moments, close your eyes and you can well imagine a festival field jumping in unison to 'Sold My Soul' or lead single, 'Come Home', a perfect example of the band's abilities to meld soaring choruses and delicate melodies to everyman lyrics that swerve cliché to create a sense of community and shared experience.
It may have been five years in the making, but the evidence of 'Home' suggests every single day was worth it. Not just for us as listeners but also for the band, with Cattle & Cane's ubiquity in the North East set to spread across the UK. As with everything to date with them that may not be the way we expect our stars to grow but one thing is sure looking at the evidence to date, it will happen. Never one for arrogance but possessed of a surety supported by the songs on this debut album, Joseph Hammill is clear that this very family concern is only at the opening of their story:
'I've got total belief in the songs and in us. I believe we're going to keep getting better and better and keep finding friends wherever we go; that's why we started this band and it's still the reason we love playing.'
Cattle & Cane release their debut album, 'Home' on September 14th 2015 via Quiet Crown Recordings.
The single, 'Come Home' is released on 29th June 2015.
Cattle & Cane play Teesside University on 18th September 2015.
Cattle & Cane are:
Joe Hammill – Guitar, vocals 
Helen Hammill – Keys, vocals
Fran Hammill – Guitar, vocals
Vin Hammill – Bass, vocals
Tom Chapman – Drums, percussion
"Surely one of the bands to watch out for in 2015" – Sunday Brunch, Channel 4
"We found ourselves humming incessantly to the gloriously addictive 'Sold My Soul' – infectious!" – Tom Robinson, BBC 6 Music
"Now playing Cattle & Cane 'Pull Down the Moon'- we love it!" – Janice Long, BBC Radio 2
"One of my personal highlights at #SoundCity14" – Liverpool Sound City
You May Also Be Interested In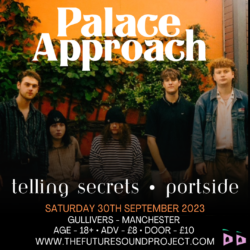 w/ Telling Secrets + Portside
Buy tickets