Certificate X Cult Cinema – Macho Man
Please note this is an 18+ Event
*GULLIVERS LOUNGE*
Certificate X is a sanctuary for rare cult cinema, with monthly presentations exclusively at Gullivers NQ Manchester. Here you will find lost cult classics, obscurities, and cinematic trash features, all supported by trailers and adverts from the shadows of cinema past. We do not show new films, but those that have been forgotten or discarded. From arthouse to grindhouse, anything is possible. Expect the unexpected.
Macho Man
Germany 1985
Director: Alexander Titus Benda
Cast: Rene Weller, Bea Fiedler, Peter Althof, Jacqueline Elber.
Language: German with English sub-titles.
Are you ready for an evening to toxic masculinity? Then Macho Man is for you.
On the streets and in the discos and boxing/martial arts clubs of Nuremberg, heroin is flooding the scene. The sleazy dealer gangs are peddling filth and destroying young lives in the city. Doctor's receptionist Sandra is targeted by the dealers who try to force her into addiction, saved by jump-suit wearing boxing champion Dany Wagner (real life boxer Weller), a romance blossoms. While thwarting an attempted bank robbery, Dany meets Andreas, a karate instructor (real life karate expert Althof) who also has sights on Sandra, the bitter jealousy leading to a challenge: boxing versus karate. But there is more at stake than brute force and pride, the deadly dope gangs must be destroyed!
With fighting a plenty (inside and out of the ring), Macho Man is a rewarding fashion mistake of 80's mullets, leather pants, coloured jump-suits, moustaches, and fur coats, all wrapped around a muscular cast who are not accustomed to acting. There is even a break-dancing championship. What more do you want from a testosterone fuelled Bavarian 80's time capsule? Wunderbar!
The feature will be supported by a gaggle of disorderly macho trailers.
You May Also Be Interested In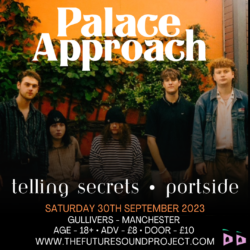 w/ Telling Secrets + Portside
Buy tickets