Certificate X presents Cult Cinema – Grindhouse Double Bill
*GULLIVERS LOUNGE*
Hello 2022. We haven't done a double-bill for years so we couldn't resist the temptation of pairing these two grubby little exploitation films together. A marriage made in cinema Hell. The films will be shown in the same order as below.
Love In Cold Blood
USA 1969
Director: Stuart McGowan
Cast: David Story, Robert Story, Jim Davies, Sabrina, Nancy Dow
Also known as The Ice House and The Passion Pit, this grindhouse classic tells the story of hunky identical twins: one is a serial killer and the other a cop. Rick the killer has a temper problem, every time he feels insulted by a woman he kills her, freezing the bodies in the ice factory he works in. Fred the cop is hot on the killer's trail when incorrectly identified by a witness as the maniac and must confront his brother. But Rick has a diabolical plan to swap identities and save his skin.
Featuring Jennifer Aniston's mother (Nancy Dow) coming to a brutal end, wife swapping swinger parties, freaky naked dancers, groovy soundtrack, a sleazy burlesque club, and real life twins working with a terrible script to deliver brilliantly wooden performances, Love In Cold Blood has long been a favourite of ours.
The source print has been damaged in so many ways that it looks like its straight out of the trash-can where it belongs.
Criminally Insane
USA 1975
Director: Nick Millard
Cast: Priscilla Alden, Michael Flood, Jane Lambert, Robert Copple
After being released from the mental hospital, Ethel is taken in by her grandmother who attempts to nurse Ethel back to good health, which means loosing weight. But Ethel is "250 pounds of maniacal fury" and is determined to eat, and eat, and eat. Anyone who stands between her and her beloved food is viciously snuffed out with a meat cleaver. Can anyone stop the slaughter?
Produced on an almost invisible budget in San Francisco, this eating-disorder-serial-killer film is cheap as chips but saved by a memorial performance from Alden in the lead. It's a freak-show of a film with an unforgettable ending. The overall result is, as its title states, criminally insane!
If you skin doest crawl, its on too tight!
Note that the total running time of the entire programme is 2 hours and 15 minutes (including a five minute intermission between films). The programme will start on time with no supporting trailers.
You May Also Be Interested In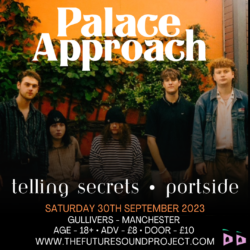 w/ Telling Secrets + Portside
Buy tickets