Certificate X presents Cult Cinema – La Venganza de los Punks
*GU
La Venganza de los Punks
Mexico 1991
Director: Damian Acosta Esparza
Cast: Juan Valentin, Olga Rios, Bruno Rey, Luz Maria Jerez, Fidel Adrego
Spanish language with English subtitles
The Intrepidos Punks are back! Hell bent on revenge.
After breaking their punk gang members out of jail, a plan to devastate the family of the cop that put them there is violently put into action. A massacre at a birthday party turns a grieving cop into a merciless (Death Wish style) vigilante, hunting down the murderous punks one-by-one. But there is more trouble with mumblings of a mutiny amongst the disillusioned gang. It's not going to end well!
This follow-up to Intrepidos Punks (1988) ramps up the insanity and shock value, making the punks Satanic drug-dealing sex and violence maniacs ("Long live death, cocaine, marijuana and alcohol" chants Tarzan, the gang boss). The violence is brutal. Thankfully the outrageous costumes and crazy colour hair-dos remain, making this a visual joy. Fast paced and action packed, all created on a fish-and-chip supper budget, La Venganza de los Punks is a worthy and tasteless follow up to Intrepidos Punks, right up to the groan inducing twist ending.
The feature will be supported by a programme of crazy Mexican film trailers.
Free entry.
You May Also Be Interested In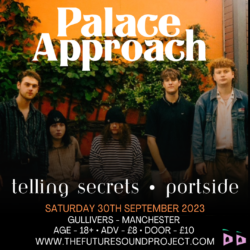 w/ Telling Secrets + Portside
Buy tickets