Hey! Manchester presents Chloe Foy
Please note this is an 18+ event
Foy first started to attract attention as far back as 2013 when her debut single 'In The Middle of the Night' was picked up by BBC Radio 6 and Radio 2. Follow-up singles, 'Flaws' and 'Asylum', brought huge streaming success – the latter is approaching 8.5 millon Spotify plays – and festival appearances followed soon after – SXSW in 2018, Greenman and Cambridge Folk Festival in 2019.
'Where Shall We Begin' is the sound of someone who has spent years working away, content to only unleash their first full body of work when they, as an artist, were at their most complete.
Inspired by songwriters like Gillian Welch, Edith Piaf and Tyler Ramsay, and producers like Blake Mills and John Congleton, the resulting album revolves around Foy's spine-tingling, pure vocals and her near perfect songwriting. Expect the melodies to lodge in your head for days.
Recorded at Pinhole Studios in Manchester, an army of musical collaborators dropped by to lend their embellishments to Foy's patchwork; viola and harp contributions taking the work to a whole new level. Foy co-produced the record
alongside musical collaborator, Harry Fausing Smith, who is also responsible for the
string arrangements.
You May Also Be Interested In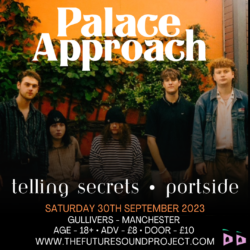 w/ Telling Secrets + Portside
Buy tickets