COMEDY MONOLOGUE PROJECTORGRAMS
Please note this is an 18+ event
Our Comedy Monologue Projectorgrams nights are popping up in Leeds and Manchester over the
coming months.
An amazing line-up of comic talent all at one event, performing comedy with a difference.
If you like stand-up comedy with a little bit of variety thrown in, then you will love our Comedy
Monologue Projectorgram nights.
A unique interactive event bringing you the best value comedy night in the north.
Bring your mobile and use it to vote, get information and take part in the hilarity. Oh, we almost
forgot to mention – You get to meet and join in with Gunter our German-ish dance instructor. (as a
projectorgram of course).
Interactive fun awaits! See you there.
You May Also Be Interested In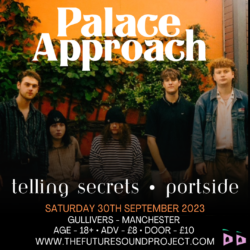 w/ Telling Secrets + Portside
Buy tickets