SJM Concerts presents Daisy Brain [SOLD OUT]
Please note this is an 18+ event
Daisy Brain is the alias of Will Tse, a songwriter & producer from London, UK. He writes and produces from his Hackney bedroom, combining a love of Britpop and Grunge with an emo melodic streak and lyrics rooted in his Gen-Z experiences. 
Writing alongside creative partner Dan Hvorostovsky (affectionately known as Russian Dan) Will crafts occasionally delicate, but mostly raucous guitar-led arrangements to back up wry lyricism and angsty vocals.
Born in Singapore to Chinese and English parents, Will moved to the UK aged 11 and was reluctantly sent to a boarding school for kids with learning difficulties (namely ADHD and dyslexia). After picking up music in sixth form college, he moved to Leeds to study music production, cutting his teeth in numerous bands. A string of fruitless relationships, bad jobs and partying followed before graduating and returning to his parents' house to rethink. 
Scrapping all the music he'd written in Leeds, Will started afresh. Deciding that a move to London might provide the creative spark he needed. Both Will and Dan ended up working in the same Brick Lane Pizza shop, blasting their favorite bands out of the speakers all day. 
Will had every intention of starting a raucous garage-rock band with an assembly of new London friends, but the Covid-19 pandemic forced him to rethink. Writing and producing from his bedroom, Will reimagined his idea for an alt-rock band through the lens of a bedroom producer, and Daisy Brain is what emerged. 
Daisy Brain combines the guitar-led arrangements of alt heroes like Blur and Sonic Youth with the earnest song writing touch of Elliot Smith, Phoebe Bridgers and Matty Healy. With a debut EP slated for release later this summer, Daisy Brain feels poised to emerge as one of 2021's most exciting new alternative artists.
You May Also Be Interested In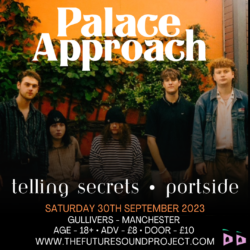 w/ Telling Secrets + Portside
Buy tickets