DAVID THOMAS BROUGHTON
Please note this is an 18+ event
David Thomas Broughton is one of a kind. His live outings and recorded material defy easy classification. His shows are an exhilarating mix of musical improvisation and performance art, underlined with raw unpredictability. His recorded material is dark but beautiful, marrying traditional folk with surrealist experimentation.
From the earliest gigs back in 2003, he quickly developed a reputation for engaging shows that incorporated field recordings, acoustic guitar and loop pedals, as well as less conventional musical aids like a rape alarm, a mobile phone and garden vegetables.
Over the past decade he's toured extensively, playing shows as far away as China, Korea and the US, as well as some of the best UK and European festivals, including Primavera, Green Man and End of the Road.
In 2015 he became the subject of a documentary The Ambiguity of David Thomas Broughton that featured interviews with his friends, family and fellow musicians, including Sam Amidon, David Shrigley and James Yorkston.
Released in three volumes by three labels in three countries, David Thomas Broughton's latest album Crippling Lack was born in 2016 as a trans-continental triple-vinyl album, with Song, By Toad as one of the labels involved in the project. It was recorded while David was living in Pyongyang, North Korea, with contributions from the likes of Beth Orton, Sam Amidon and Aidan Moffat.

The 2017 Crippling Lack tour was conceived as an evolutionary step in the life of the album. Each show will enlist the help of different collaborators from diverse musical genres to help create different experiences for each and every performance. Some participants will be artists who took part in the making of the original album. Some will be new characters, adding their voices to the cast of Crippling Lack.
David Thomas Broughton explains: 'This tour will continue to reinterpret my songs, offering unique takes on the album. The original recordings were put down relatively quickly, with a degree of spontaneity and not spending a lot of time composing. By exploring them more, I can see what they can become and what different groups of collaborators can spur in my own creative endeavour.'
With David Thomas Broughton currently based in South Korea, this tour represents a rare opportunity to witness one of England's most eccentric and enigmatic performers.
'Broughton's live shows are miniature spectacles. He roams through the crowd and uses furniture as percussion. He layers sounds in slightly haphazard ways, as though his songs weren't so holy that he couldn't subject them to chance' – Pitchfork
'Straddling the line between music hall turn and avant-garde performance artist… not to be missed' – Mojo
Price: £9 adv
Info/tickets: https://www.heymanchester.com/david-thomas-broughton-3
You May Also Be Interested In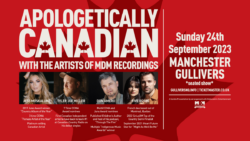 w/ Jess Moskaluke, Tyler Joe Miller, Don Amero, Five Roses
Buy tickets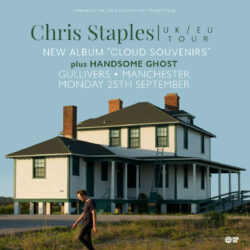 w/ Handsome Ghost
Buy tickets