DHP Family presents FEWS
With guests Little Cub
Please note this is an 18+ event
Renowned for their incendiary live performances, shadowy noise-pop group FEWS mark their return with a new album 'Into Red' (March 1st  2019, Play It Again Sam) and headline European tour.
Following extensive touring thru 2016-17 , including two runs as guests of Pixies, the Anglo / American / Swedish quartet retired to Malmö.  Written and demo-ed after a self-imposed hiatus, the band enlist friend and local studio boss Joakim Lindberg to co-produce  the sessions.  'Into Red' sees FEWS extricating their influences and experiences to further develope their own path, one that reveals a prominent, assured confidence.
For the first time since their inception in 2014 all four members of the band live in the same city, Malmö's underbelly providing the perfect environs and ambience to aid unfettered artistic endeavours.
As a shape of things to come, fashion house Valentino picked-up the punk blunt-trauma of 'Business Man'  for their Autumn / Winter 'Made In Roma' campaign , the follow-up single 'Paradiso' sees the FEWS sound move into more expansive territory. Mixed by James Dring (Gorillaz, Loyle Carner, Nilufer Yanya) 'Into Red' is a more cohesive statement than their impressive debut 'Means', and sees Dring make a feature of the bands trademark dynamics and  invention.
"By far the most personal thing I've ever experienced – making these songs. We wanted to make an album that actually meant something and not just song after song-album. We wanted to take it to the next level. To have no restrictions or limits. Personally I wanted to see how honest I can be with myself on record without getting too uncomfortable. David explained 'Into Red' like a lorry going 300 kilometers per hour on ice almost losing control, which sums it up pretty well" – Frederick. 
You May Also Be Interested In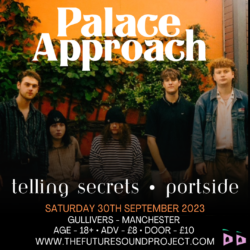 w/ Telling Secrets + Portside
Buy tickets