DHP presents Alistair Griffin
Please note this is an 18+ event
"The sound of our glorious sporting summer belongs to Alistair Griffin" – Sunday Express
Singer songwriter Alistair Griffin will crown a successful year with a performance at the Rugby League World Cup at Wembley singing his song I Wish For You The World.
This comes hot on the heels of penning another rousing anthem, To The Sun, this time for the Prince Harry's charity Walking With The Wounded. The song, written by Alistair and performed by vocal group 'Blake' will raise funds for injured servicemen and support their trek to the south pole.
Its been quite a year for the Yorkshire born singer songwriter. His song WHAT IF? sound tracked the BBC's montage of Andy Murray's historic win and became an immediate hit with viewers as they took to Twitter to frantically search for the track to find out what it was called, who performed it and how to get hold of it.
With the biggest sports audience since 1966, Andy Murray's spectacular win at Wimbledon was accompanied by a perfectly pitched ALISTAIR GRIFFIN sporting anthem, composed to match the emotions of the occasion.
His latest single, THE ONE, a Radio 2 favourite is no different. It was used by the BBC to close their coverage of The Open, fitting seamlessly with their images of the historic golf tournament.
With Sky TV playing Griffin's anthemic JUST DRIVE on all its Formula One coverage for yet another season, hardly a weekend goes by without a Griffin track being heard by the British public.
Other notable soundtracks include the closing montages for the FA Cup Final and BBC F1 as well as songs accompanying Match of The Day and Champions League coverage.
Alistair has now been asked by Welcome to Yorkshire, who won the bid to host the Tour De France opening stages in 2014, to write a theme for next year's Grand Depart.
You May Also Be Interested In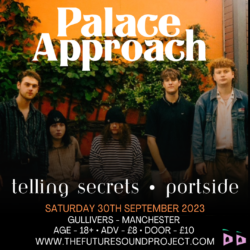 w/ Telling Secrets + Portside
Buy tickets