DHP Presents : THE SO SO GLOS
With guests GROTBAGS, PATTY HEARST & INCISIONS
Please note this is an 18+ event
The So So Glos began in 1991 when brothers Alex Levine & Ryan Levine met Zach Staggers in kindergarten in Bay Ridge, Brooklyn. Through a series of divorces and remarriages the three became brothers. They played music before they knew how to under monikers such as SPITT, Urban Eyze & Every Other Weekend.
In 2007 Matt Elkin joined the band to complete the family and The So So Glos were born. The four went on to co-found The Market Hotel in 2008 & Shea Stadium in 2010. The two D.I.Y. all ages music venues have become staples of Brooklyn's underground music community.
In 2013 The band released Blowout on thier own imprint of Shea Stadium Records. Blowout saw praise from the grassroots fanbase they had built as well as mainstream media outlets propelling them from garage band to local heroes in the national spotlight. The release ofBlowout also secured 'em thier national television debut performing "Son of an American" on the Late Show with David Letterman.
The So So Glos live show is known for its high energy and crowd engagement. Whether they play a punk house in Brooklyn, a beach party in Miami or a Basketball Arena in San Antonio, they always play with the same excitement & zeal the songs deserve.
They have recently shared the stage with bands such as Conor Oberst's reunited Desaparecidos, The Pogues, Trail of Dead, Ted Leo, Brand New, Rocket from the Crypt, Matt & Kim, The Hold Steady & Raekwon of Wu Tang Clan.
To date they have released 2 LP's, 2 EP's & several singles – all with production by thier childhood friend and lifelong producer Adam Reich (aka The 5th Glo).
You May Also Be Interested In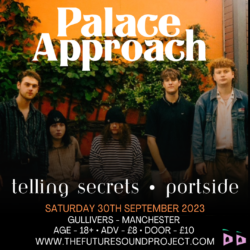 w/ Telling Secrets + Portside
Buy tickets