DHP Presents : OH PEP
Please note this is an 18+ event
Olivia Hally and Pepita Emmerichs met in music secondary school in Melbourne, Australia, drawn together by a shared love of songs with no boundaries or expectations. The duo, now both 24, have since unveiled three EPs, but it's their debut album, Stadium Cake, that truly showcases Hally and Emmerichs' uniquely compelling collaboration.
Hally and Emmerichs decamped to Halifax, Nova Scotia to record with producer Daniel Ledwell. After initially meeting Ledwell in early 2015 and recording two tracks with him for their Living EP, Oh Pep! felt that he had the right sensibility to carry these new album songs through the recording process. The band spent their August in Ledwell's studio, and celebrated the culmination of the recording by swimming across Lake Echo, which neighbors the studio.
"One thing Dan won't let you do in the studio is overthink, which is beautiful because it made it really fun and creative," Hally says. "There's a sense of humor in it."
Stadium Cake marks the first time Oh Pep! recorded with a multi-track approach rather than recording live. They wanted to be completely open to new ideas and approaches, and to not confine themselves to preset conceptions of how the music should be made. "Doctor Doctor," the album's first single, is a pop song with elements of the unexpected, revealing the band's interest in experimental and occasionally dissonant melodies as Hally sings "Where is the light, for me it's the darkest night." A sense of light and dark stitches together the tapestry of Stadium Cake, continually bringing a sense of tension to each song. It's heard in the texture of "Tea, Milk and Honey," as Hally sings with sparse accompaniment before the delayed entry of the band. That tension can also be heard in the jarring time changes of Emmerich's line in "The Situation" and "7 Babies."
"Our process really changes all the time, which is probably why we've done it for so long," Hally says of their songwriting. "There are definitely no rules about how we're going to write a song," adds Emmerichs.
Oh Pep! has been bringing their recordings to the stage for years, first trekking around Australia and then touring internationally since early 2015. They've performed at CMJ, SXSW and Nashville's Americana Music Festival, and for Seattle's KEXP and NPR's Tiny Desk. KCRW named Oh Pep! an artist who 'won' CMJ and NPR's Bob Boilen proclaimed that "the Melbourne band's music is infectious. Their harmonies are sweet, with lyrics that are thoughtful, deep, funny and poetic." In 2016, Oh Pep! will tour Europe for the first time supporting Lake Street Dive, and in North America with Nathaniel Rateliff & The Night Sweats and Lord Huron before making a triumphant return to Australia later in the year.
You May Also Be Interested In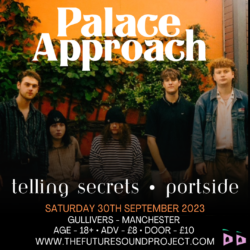 w/ Telling Secrets + Portside
Buy tickets