Die Verlierer
w/ Beige Banquet + Rifle
Please note this is an 18+ Event
The first ever UK tour for Berlin-based punk band DIE VERLIERER – Manchester gig with Mangel Records label-mates BEIGE BANQUET, a formidable post-punk five piece band from London and North London's newest fierce Punk, Oi! and Hardcore – Combo RIFLE.
With their debut album released 2022 on Berlin cult label Mangel records, Die Verlierer are capable of creating a trangressive headspace of nostalgia dragging you all the way back to the late 70's. Bass-driven, raw and NDW influenced post punk. Hardly surprising that, when they came across outsider punks Beige Banquet (Just Step Sideways) during their shows that had been put up by Mangel in 2022, both bands decided to play a joint UK tour together.
While Die Verlierer cruise in with an album that, according to Maximumrocknroll, was already considered one of the best punk albums of the year in the summer of 2022, Beige Banquet built their recordings into feverish live performances in rooms slick with sweat, getting people dancing to pounding drums, anxious vocals, guitar layers and percussion over saturated basslines. Bringing their unmistakable energy to festivals such as London's DIY Alive, Rotterdam's Left Of The Dial, and France's Binic Festival, Beige Banquet also found themselves sharing stages with contemporaries such as Crack Cloud, Shame, and Liiek.
With their "Holloway Demos" EP released 2022, Rifle quickly came up as a "band with a formidable live lo-fi grungy/post-hardcore noise punk reputation", playing "UK 82′ punk (Addtowantlist) with a "Bit of a Stiff Richards sound to them, bit of a Sex Pistols thing going on. Basically, they are miscreants reeking of debauchery." (Louder Than War)
And now, the English premiere of all three bands playing some destructive live shows together, an insane combo that you should not miss!
You May Also Be Interested In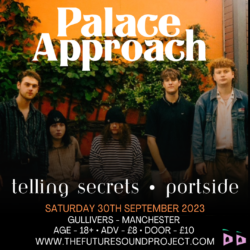 w/ Telling Secrets + Portside
Buy tickets