Rocky Road Touring presents Dirty Laces [SOLD OUT]
w/ Strange Cities
Please note this is an 18+ event
Dirty Laces 
Are you lost? Come and take a walk down the Midnight Mile for a psychedelic trip of self-discovery.
Manchester's Dirty Laces recently returned from a forced hiatus with their new single 'Midnight Mile' after a relentless festival season which saw the Laces pack tents all over the UK.
The band were formed early in 2017 and have developed into one of Manchester's best live bands and a recent quote from the well-respected Even The Stars blog review quoted as follows:
"There's a real connection between band and audience that's been built up over the years and which has been rekindled post the enforced COVID break that knocked many artists' trajectories off track. There's a couple of homemade banners held aloft that make the band laugh, lads get on shoulders for the set-closing You and you sense a real mutual appreciation between those on and off stage. It's warming to see a band evolve in the way Dirty Laces have and retain an audience as reward for their bravery in going out of their comfort zone."
Strange Cities
San Francisco post punk band Strange Cities was formed from the ashes of several Bay Area bands. Featuring former members of In Letter Form, Murder of Lillies, NRVS LVRS, and Upstairs Downstairs. Drawing on influences such as Echo and the Bunnymen, The Chameleons, & JAMC, Strange Cities' sound also reflects the foggy, jagged, industrial landscape that inspired their name. Whether stitching up pieces of a broken past or reflecting on an unknown future, their music skirts the fringe of noise and nihilism, melodic and melancholic, tragedies and trajectories. A post-post punk if you will.
With Daniel Nakazo Clark (vocals and guitar), James Levis (guitar), Clayton Vorheis (bass and vocals) and Dan Caporale (drums).
The band recently toured the western half of the US with Gene Loves Jezebel. On that tour they met Smiley, UK based producer and drummer for GLJ, The Alarm. Archive, Joe Strummer and the Mescaleros. Strange Cities will be heading to Fleet to work with Smiley at his studio, Sunshine Corner in Feb. , 2023 ,coinciding with their debut tour of the UK.
You May Also Be Interested In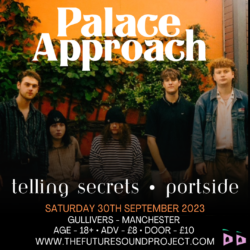 w/ Telling Secrets + Portside
Buy tickets