EASTER
With guests
Please note this is an 18+ event
Hey! Manchester presents
Manchester indie rockers Easter returned this year with their second album, Meander Lines, released in April on Super Smash Hit Records. Receiving praise from Uncut, Record Collector and The Crack Magazine among others, the album cements the band's reputation as one the city's current finest. Having toured the UK in May they're back on the road again in the autumn to support the release of upcoming single Pixel Princess.
Meander Lines blends disparate elements, embodying the spirit and technique of Ragged Glory-era Neil Young, Television and Dinosaur Jr whilst also recalling the likes of Chris Forsyth's Solar Motel Band and The Dream Syndicate. The free-improv tendencies of drummer Andrew Cheetham combine with Gavin Clarke's guitars to weave an intricate patchwork over the songs, while Rich Clarke's bass driven playing anchors and exhalts. For all of Manchester's illustrious musical history, it's hard to bring to mind a local act that they compare or aspire to. Singles Suicidal Kiss and Open Grave fit the three-and-a-half minute rocker format, album centrepieces I Lost My Pen and Pixel Princess break free into heaviness and exploration while the gentler excursions of My Dreams Were Dead and New Clothes wear their slow core influences gladly. Live all these aspects come together to create a powerful melee which has earned support slots with White Hills, Rangda, Mugstar and Mono.
Since recording debut album Innocence Man, singer/guitarist Tom Long spent wo years on the road as multi-instrumentalist with LoneLady, promoting her second album for Warp, while drummer Andrew Cheetham was in high demand, touring with Kiran Leonard, Jane Weaver and a host of improv projects. In this interim the band shared How You Spend Yr Time online and it was quickly picked by Huw Stephens at BBC Radio 1, yet initial sessions for the follow up were abandoned. After an intense period of writing, re-writing and whittling down a huge batch of material, the band regrouped for two days of live recording at Eve Studios, Stockport with producer Karl Sveinsson (Gnod/Vanishing) and finished the record at Queen's Ark in Levenshulme, Manchester.
The title sheds light on a difficult process, as Long reflects: 'It's an architectural term, when city planners design paths for people to walk, meander lines are the routes they often end up taking instead – shortcuts, cutting across spaces etc. It's a break-up record and this seemed to be the perfect metaphor for my experiences, having a path laid-out in front of you, a life you've built, but for whatever reason, you just don't take it. It also fits the arc of most of our songs, they tend to be heading in a certain direction, then they veer off.'
Featuring stellar players from Manchester's fervent underground, with virtuoso multi-instrumentalist DBH adding strings on several tracks and the ethereal backing vocals of Tekla sprinkled throughout the record, Meander Lines has the scope and vision that should see the band meet a whole new audience.
'A welcome throwback to the wry, self-lacerating alt.rock of the early 90s, fans of Lotion and early American Music Club step this way' – Uncut
'Built on 90s US alt-rock foundations – think a holy trinity of Sebadoh, Slint and Sonic Youth' Folly of Youth
Price: £7 adv
Info/tickets: https://www.heymanchester.com/easter-3
You May Also Be Interested In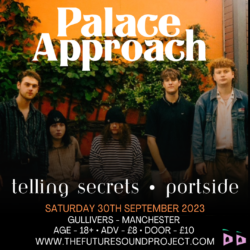 w/ Telling Secrets + Portside
Buy tickets