EMILY MAGUIRE
With guests
Please note this is an 18+ event
Red Balloon Music is proud to present the return of one of the standout artists who played at our night back in August – Emily Maguire.
Support TBC.
EMILY MAGUIRE:
"Exquisite" "A class act" "A true artist" "Music for the soul"
UNCUT THE MIRROR RnR MAGAZINE MAVERICK MAGAZINE
A classically-trained multi-instrumentalist with five albums and two books to her name, Emily Maguire is truly "a talent to be reckoned with" (RnR Magazine), her thought-provoking lyrics, supremely expressive vocals and stunning live performances winning her fans across the globe. After living in a shack in the Australian bush where she made her first two albums, Emily returned to the UK to tour with American legend Don McLean and make her third album 'Believer', a 'masterpiece' according to Maverick Magazine, with two singles playlisted on Radio 2. Her hauntingly beautiful fifth album 'A Bit Of Blue' was released in 2017.
www.emilymaguire.com
www.facebook.com/EmilyMaguireMusic
@emilymaguirehq
You May Also Be Interested In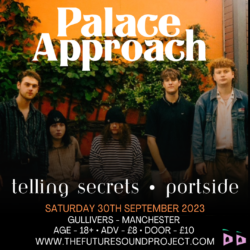 w/ Telling Secrets + Portside
Buy tickets