Hey! Manchester presents Fuzzy Lights
Please note this is an 18+ event
Fuzzy Lights were formed in Cambridge in 2004 as a duo of Rachel and Xavier Watkins. From initial experiments with violin and guitar loops they expanded into a four-piece for their near-instrumental debut album 'A Distant Voice' in 2008.
In 2010 they released their second album, 'Twin Feathers', as a settled quintet, weaving together elements of pastoral psych-folk and noise-rock. The album received critical acclaim, being named 'Underground Album of the Month' in MOJO and receiving 4 star reviews in Uncut and Artrocker. Several tracks from the record featured across BBC 6Music shows, and the same year they played at the End of The Road Festival.
In 2011, they retreated to a farmhouse in Dedham Vale to write new songs, and the fruits of these sessions were later recorded live to tape at a Limehouse studio. Released in February 2013, "Rule of Twelfths" was a more direct album, cinematic in essence while carrying the ghosts of wall of sound productions.  It too was well received, with Uncut magazine declaring "a work that sweetly lulls the listener with delicate folk numbers before ambushing them with surging orchestral noise.  It's this contrast… that makes Rule of Twelfths so effective".
Following on from a series of events performing semi-improvised film soundtracks the group went into hibernation for a number of years, emerging only briefly to act as soundcarriers for legendary former Can frontman Damo Suzuki.
Behind the scenes, Fuzzy Lights worked on intertwining improvised jams with deliberate and personal songwriting, re-emerging with "Burials", a collection of delicate yet weighty tunes that is the band's most compelling statement to date.
You May Also Be Interested In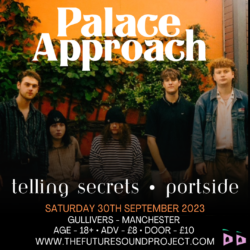 w/ Telling Secrets + Portside
Buy tickets