GAS Explosions
Featuring Partisan, Modern Family Unit, Lucien Caine & Pete Wilkinson
Please note this is an 18+ event
Manchester based music business and label present a showcase of their talent. An eclectic, explosive yet engaging showcase of musical talent – more than just acts getting on and off stage, the shows are there to share a passion for life and community, using the tagline of #musicisaweapon. Music, guitars, laptops, spoken word, burlesque, a six foot rabbit and an activist spirit.
– Partisan – passionate, authentic rock with punchy, bold and unflinching anthems.
– Modern Family Unit – theatrical electro-punk-pop, politicised dance.
– Lucien Caine – pop noir, delicious cool, romanticisms.
– Pete Wilkinson – spoken word, echoing the harsh realities of life.
You May Also Be Interested In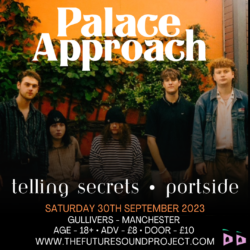 w/ Telling Secrets + Portside
Buy tickets