George Wallace, workshop & performance
Please note this is an 18+ event
'Legendary American poet George Wallace had punter enthralled as he read from several of his works…at Fuel Bar in Withington'  Manchester Evening News, Aug 19 2010
American poet George Wallace returns for a four venue tour this summer, with appearances scheduled in Bolton, Liverpool, Manchester and Cumbria. The visit, promoted by Bolton's Live from Worktown arts and heritage organisation coincides with the 200th anniversary of the birth of American poet Walt Whitman. Whitman, the founder of modern American poetry has unique connections to Bolton.
Wallace has been writer in Residence at the Walt Whitman Birthplace in New York since 2011 and was elected America's first Beat Poet Laureate in 2015.
A native New Yorker, Wallace was educated at Syracuse University, where he first met Allen Ginsberg and took an interest in the Beat writers. He subsequently obtained masters degrees from UNC Chapel Hill and Pacific University, did research at Harvard's Center for Hellenic Studies. and for over a decade has been teaching writing courses at NYC's Pace University. A major figure on the New York poetry performance scene, Wallace is known for the musicality and drive of his delivery..
He edits several important literary journals, and tours the US annually  to share his work with community based writers — with particularly strong ties to LA, the SF Bay area, Texas, Oklahoma, Cleveland and Kansas City. The author of 34 chapbooks in the US, UK, Italy, Macedonia and Italy, he is winner of the CW Post Poetry Prize, Blue Light Poetry Award; and was named the first laureate of the National Beat Poetry festival. .
Kirpal Gordon writing in Big Bridge Magazine, compares his grounding to that of John Coltrane and describes his poetry as " whimsical yet grounded in gravitas that's equally moving when spoken or read, urgent yet full of surreal leaps over the linear and the logical.' Folk singer Donovan called his work 'cool and musical.'   Robert Peake, in Huffington Post-UK,describes his poems "as rough and vulnerable as manhood, as full of hope and heartbreak as the New World." Naomi Shihab Nye, chancellor of the Academy of American Poets, calls his performance style " riveting, highly original… he embodies potent rhythm and verve!' Composer David Amram, who collaborated with Leonard Bernstein, Dizzy Gillespie and Jack Kerouac, declared him 'a spellbinding reader, using his musical training to recite his own work, as well as the poetry of others, in a way that makes the words sing.' Marvin Bell, a dean of America's literary establishment, The Writers' Workshop, University of Iowa, sums up Wallace's qualifications this way:  '…a pro in every respect… a man of intellectual curiosity, wide experience, and extraordinary energy… his poetry embodies imagination and energy and is exciting both to read on the page and to hear read aloud.
You May Also Be Interested In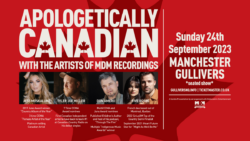 w/ Jess Moskaluke, Tyler Joe Miller, Don Amero, Five Roses
Buy tickets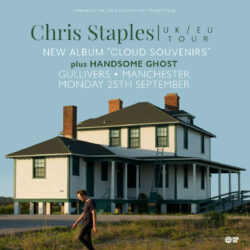 w/ Handsome Ghost
Buy tickets