Glasswerk presents Eleanor McEvoy
Please note this is an 18+ event
Exposed to music at a very early age, Dublin born Eleanor grew up in a strict Catholic household in the grey north-side suburb of Cabra. After a musical upbringing playing the piano, violin and performing on stage with her older siblings, Eleanor graduated in music from Trinity in Dublin and set out to pay her way through life as a jobbing musician. Already writing her own songs, she was waiting for the opportunity to branch out on her own. To initially pay her way, Eleanor spent 4 years in Ireland's National Symphony Orchestra (NSO), she recorded studio sessions as a singer, fiddle and keyboard player and joined Irish diva Mary Black's touring band. She then decided to cash in her savings and go for it; spending the cash on better song demos, home recording gear and a decent guitar.
Out of the blue, two chances came along at once. Mary and her record company manager/husband decided Eleanor's song "A Woman's Heart" would be a fitting title and lead song for the compilation they were putting together of contemporary Irish female performers. Simultaneously the legendary Tom Zutaut of Geffen Records (who signed the likes of Guns N Roses and Motley Crue), on a scouting mission to Dublin, heard Eleanor in a pub, bought her demo cassette and on the spot decided he wanted to sign her to Geffen.
Everything changed and Eleanor was off to tour the world, while at the same time A Woman's Heart went into the Irish charts and still remains the biggest Irish selling record in the home market.
Zutaut's departure from Geffen led to Eleanor re-signing to Columbia Records in New York. By this time she had a band and she cut the album "What's Following Me?" Columbia reinvested, but Eleanor let the band go and went in to a French Chateau with producer Rupert Hine (Rush, Stevie Nicks, Tina Turner) and engineer Ruadhri Cushnan (George Michael, Mumford and Sons and the Maccabees). Events now took a lurch side-ways, as Eleanor was attacked walking home from the studio in London. Traumatised and with a damaged hand, Eleanor had to recruit a new band to tour the album. Sadly the album was not what Columbia had in mind, and after the briefest airing of "Snapshots", they let her go. (Bizarrely "Sophie", a song from the album has become a focus of hope and comfort for anorexics world wide on you-tube with videos made with the song as the soundtrack).
Having recovered and not about to give up, Eleanor moved to Wexford and recorded "Yola" a far more tranquil and thoughtful album, which remains to this day a talisman in the worldwide Hi-Fi community.
Embarking on full time song-writing during this period, she's co-written with Rodney Crowell, Lloyd Cole, Henry (The Christians) Priestman and Johnny Rivers. Her most recent and longest writing companion has been Dave Rotheray of the Beautiful South. This culminated in the recording and performance of Dave's "Life Of Birds" album. Eleanor co-wrote five of the songs, sang and played on several of the tracks and was a special guest on the album's tour earlier this year.
You May Also Be Interested In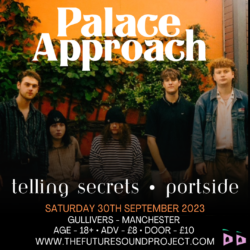 w/ Telling Secrets + Portside
Buy tickets