Glasswerk presents Mishka Shubaly
With guests J D Kelleher
Please note this is an 18+ event
There is a town in north Ontario… Mishka Shubaly was born there in the year Vladimir Nabokov and Elvis Presley died. He was a bright kid, if a little soft. When he was eight, he moved with his family to Los Alamos, New Mexico where his rocket scientist father had landed a job working on Ronald Reagan's Strategic Defense Initiative. When Shubaly was 13, his family moved again, to New Hampshire. There, he excelled at both academics and fighting, landing High Honors while only one further dust-up away from expulsion.
Mishka Shubaly started university at Simon's Rock College of Bard at age fifteen and graduated Summa Cum Laude from the University of Colorado at 20. At 22, he was awarded the Dean's Fellowship, the largest merit-based scholarship offered by Columbia University's School of the Arts. Over one winter break, he recorded "Thanks For Letting Me Crash," an EP of hungover bedroom 4-tracks, which he quietly self-released in 2001. That EP slowly gathered praise from bands like Dead Meadow and several record labels. Shubaly interned at The New Yorker reading fiction and was offered an internship at Harper's Magazine, which he declined in order to crew on a sailboat in the Caribbean, which promptly sank. Mishka Shubaly received a note of commendation from the Dean of the University for completing a deceased classmate's thesis so he could graduate posthumously. He graduated with an MFA in Fiction in 2003. Upon receiving his expensive degree, he promptly quit writing in order to play music and ruin his life.
Mishka lived out of a Toyota minivan for a year, touring nonstop as a singer songwriter, and shared the stage with artists like The Strokes, The Yeah Yeah Yeahs and The Decemberists among many others. In 2007, Stumptown Records released "How To Make A Bad Situation Worse," a sprawling record reveling in drunken chaos Shubaly had written and recorded as his life was unraveling. That record found firebrand comedian Doug Stanhope, who declared Shubaly his favorite musician, and dragged him out on tour around the country. The shows were so successful that Shubaly had to get sober in 2009.
Shubaly's writing has appeared in publications such as The Denver Post, NYMag.com, and New York Press. "Shipwrecked," his firsthand account of a disaster at sea was named one of the "Best E-books of April" by Amazon.com, where it has sold more than 30,000 copies.
His second Kindle Single, "The Long Run", about his journey from addict to long distance runner, has sold more than 80,000 copies to date and was cited as one of Amazon's Bestselling Kindle Singles to date. Mishka's four subsequent Kindle Singles, "Are You Lonesome Tonight?" "Bachelor Number One," "Beat The Devil," and "Of Mice and Me" have all been bestsellers. He is rapidly approaching 200,000 total sales. His Singles have been translated into Spanish, German and Polish. In November, 2014, Shubaly published a collection of his Kindle Singles with a foreword by Amazon founder and CEO Jeff Bezos.
In the spring of 2011, Mishka was invited by the Peabody-winning Moth Radio Hour to tell an oral version of "Shipwrecked" at The Great Hall at Cooper Union alongside Richard Price and other storytellers. "Shipwrecked" is often broadcast on NPR for the Moth Radio Hour.
In 2014, Mishka Shubaly signed a book deal with Public Affairs Books for a full-length memoir about his transition from drunk, drugged gutter-dweller to sober ultra-runner. He was a featured speaker at the vaunted National Arts Club in Manhattan in June and has been touring nationally opening for Doug Stanhope. His songs "Don't Cut Your Hair" and "The Only One Drinking Tonight" are featured on Doug Stanhope's podcast. He is a regular guest on the wildly popular podcast of vegan Ironman legend Rich Roll.
Having played gigs in US thirty-seven states and several countries, in 2015 his album "Coward's Path" is being released by Invisible Hands Music. It is a tragic, funny and always honest account of his former life dealing with addiction and what happened along the path to sobriety. Johnny Depp calls it, "Always a favourite – sublime!" and comedian Doug Stanhope says, "If you have ever considered committing suicide at happy hour, Mishka Shubaly is the singer-songwriter for you."
You May Also Be Interested In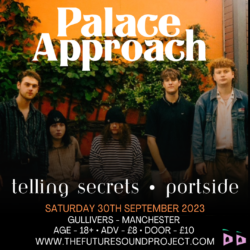 w/ Telling Secrets + Portside
Buy tickets