Glasswerk presents Nick Harper
Please note this is an 18+ event
From personal introspection to biting political satire via a charmingly caustic wit that would make Groucho Marx proud, for over a decade he has been dazzling audiences and reviewers alike with this heady mix of virtuosity, boyish charm, showmanship and sheer bravado. His talent and showmanship were recognised in 2003 with a (Glasgow) Herald Fringe Angel award for excellence in live music during his Edinburgh Festival run.
Nick's most recent work has seen him appear in the studio alongside Lana Del Ray playing guitar on her cover of Leonard Cohen's hit "Chelsea Hotel No 2" from her acclaimed 2014 album 'Ultraviolence' as well as appearing on recordings from Newton Faulkner, Steven Wilson (Porcupine Tree) and The Levellers.
Son of the legendary UK singer-songwriter Roy Harper, Nick was born in London and raised in Wiltshire. Having played the guitar from the age of 10 and surrounded by the likes of Keith Moon, Jimmy Page, Robert Plant and Dave Gilmour as he grew up, his rock and roll credentials were already well-assured before a chance meeting with Squeeze frontman and songwriter Glenn Tilbrook in 1996. Tilbrook was so impressed that he offered Nick a job playing with and supporting Squeeze and promptly signed Nick to his own label, Quixotic Records. Following tours in the UK, USA and Japan, Nick recorded the 1998 album Smithereens with Tilbrook as producer. This album and subsequent 40 date solo tour, including dates in New York and Glastonbury, confirmed Nick as a formidable talent in his own right.
Between albums, Nick is known for touring with a vengeance – he's now appeared at Glastonbury Festival six times – but also for his charity work, since devoting more energy to fundraising projects as one of the organisers of 'Avebury Rocks', a charity walk and rock concert held near Nick's home in Wiltshire, raising substantial funds for The Prospect Hospice. In 2007 Harper's charity single 'Blue Sky Thinking' went to No.1 in the iTunes charts with all proceeds from the single donated to the Love Hope Strength Foundation. Nick had just returned from Nepal after setting a new world record for the highest gig on earth at Kala Pattar above Mt. Everest Base Camp on October 21st 2007, whilst helping raise over £200,000 for the fight against cancer, before going on to play as part of the Love Hope Strength all-star band to approximately 20,000 people in Kathmandu. Nick has been on two further treks with the foundation to Macchu Picchu in Peru and Kilimanjaro in Tanzania helping to raise substantial funds for local cancer centres and hospitals.
After a myriad of studio albums, Nick's work is thankfully still as fresh and vital today as it was on his first solo release in 1994, but, as evidenced with his highly personal 2004 "family album" Blood Songs, he still has time to sing about the most important things in his world – family, friends, love, life. – See more at: http://glasswerk.co.uk/concerts/gig/13160/Nick+Harper-Gullivers,+Manchester/#sthash.XaLeprlT.dpuf
You May Also Be Interested In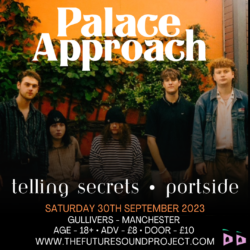 w/ Telling Secrets + Portside
Buy tickets