Glasswerk Presents Tides of Man
Please note this is an 18+ event
Tides Of Man is a instrumental indie rock band from Tampa, Fl. Their first album, "Empire Theory" came out on Rise Records in August of 2009. This was followed by their album "Dreamhouse".
Their debut instrumental album was self released in 2014 by an overwhelming support from their fans through crowdfunding. It is entitled "Young and Courageous".
Tides of Man have trailed the nation back and forth with bands like of AFI, Karnivool, Dance Gavin Dance, Emarosa, A Skylit Drive, Of Mice and Men, Oh Sleeper, From First To Last, We Came As Romans, Broadway, Vanna, Asking Alexandria, A Static Lullaby and Eye Alaska.
You May Also Be Interested In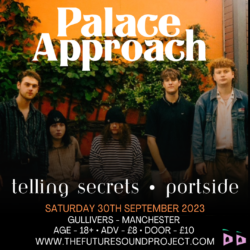 w/ Telling Secrets + Portside
Buy tickets