Hey! Manchester presents Advance Base
Please note this is an 18+ event
Advance Base is the electronic solo project of Chicago, IL singer/songwriter Owen Ashworth (formerly of Casiotone for the Painfully Alone).
Using a two-handed arsenal of electric pianos, autoharps, Omnichords, loops, samples & drum machines, Ashworth builds minimalist, heavy-hearted and nostalgia-obsessed tunes around his conversational, baritone vocals. The sound of Advance Base has been described as 'lo-fi', 'depressed' and 'weirdly uplifting'.
Advance Base has proudly supported live dates for The Postal Service, Pedro the Lion, The Mountain Goats, Dean Wareham (Galaxie 500/Luna), Alan Sparhawk (Low), Mark Kozelek (Red House Painters/Sun Kil Moon) and Stephin Merritt (The Magnetic Fields). The debut Advance Base album, A Shut-In's Prayer (2012), was released in North America by Mark Kozelek's Caldo Verde Records (CD) and Ashworth's own Orindal Records(vinyl/digital). Tomlab Records released special edition CDs and LPs for Europe and UK.
Nephew in the Wild, the second album by Advance Base, was released on 21 August 2015 by Orindal Records (US/AQ) and Tomlab Records (EU/UK). PopMatters named Nephew in the Wild the #1 Indie Pop Album of 2015.
Animal Companionship, the third and most recent album by Advance Base, was released on 21 September 2018 by Run For Cover Records and Orindal Records.
All available merchandise, including t-shirts, vinyl records and MP3s can be purchased from Orindal Records.
Advance Base is named after the Antarctic meteorological station & psychedelic death trap that nearly killed Admiral Richard E. Byrd during the winter of 1934.
You May Also Be Interested In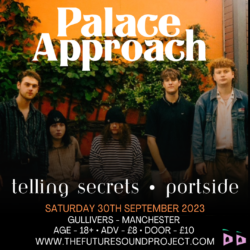 w/ Telling Secrets + Portside
Buy tickets