Hey! Manchester presents JESS WILLIAMSON
Please note this is an 18+ event
Jess Williamson's Heart Song is a brave record. It explores the strength in vulnerability, the power in silence and empty space. The recordings bristle with energy and confidence while maintaining the intense intimacy Williamson is known for. Like the visceral desert landscape that inspires her, she knows when to let her vocals drift across the song, light like a tumbleweed, and when to, like the fiercest of Texas storms, unleash thunder and lightning with her band.
A few years back, Jess Williamson returned home to her native Texas to reconsider everything and rethink the direction of her life. It was that about-face that gave her the security and solitude, the inspiration, needed to create 2014's highly acclaimed debut album, Native State.
But that was two years ago.
Williamson's sophomore album, Heart Song, questions the structures of support inherent in the comforts of home and showcases the rare kind of artistry that is the hardest to achieve after early success: change.
The opening song, Say It, eases the listener into a groove before the song cracks open and floods the landscape with squall and noise and thunder; announcing that Heart Song is not the same album as it's predecessor, that this work is not only the next logical step in Williamson's evolution, it is also a leap forward for her as an artist.
On the album's centrepiece and title track Williamson wonders aloud, 'Will I grow into my body?' but no one listening to her music, her poetry, will doubt her growth.
Is freedom really nothing left to lose?
Is freedom something that I have?
Something that I have, with you?
You've got the phases of the moon to blame
But I am a slave to a part of my heart
Nameless and untamed,
My Heart
The seventh and final song, Devil's Girl, closes out the album with a step back, just close vocals and quiet guitar, and we are reminded again of the essence of what makes Williamson such a phenomenal artist: her ability to tap into the universal. 'Yesterday I was on the phone with a woman with my mother's name/ Offering to meet me halfway between here and St. Louis /And I saw again the intimacy that comes between/ Strangers with stakes in the same crisis.' The song is a meditation and a restorative close to an extraordinary album.
Heart Song was recorded direct to tape in Austin, TX by Erik Wofford (The Black Angels, Bill Callahan) at Cacophany Studios and by the band in Jess's house. It was mixed by Larry Crane (Elliott Smith, Sleater-Kinney, Cat Power) at Jackpot Recording in Portland, Oregon. The album is released on Williamson's own imprint, Brutal Honest.
Special guest is Manchester's own Jo Rose, who has been touring with his first set release, Spurs, for the past year. The songs from this record, bearing the influence of acts such as Neil Young, Leonard Cohen, Townes Van Zandt, Songs: Ohia and Smog have been played extensively around Europe at shows supporting Thea Gilmore and First Aid Kit
This intimate acoustic show will take place in Gullivers' Lounge – a tiny room at the rear of the pub.
You May Also Be Interested In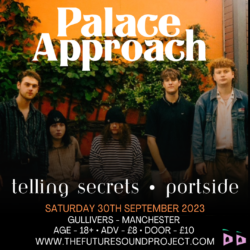 w/ Telling Secrets + Portside
Buy tickets