Hey! Manchester Presents Laura Gibson
Featuring Nat Johnson
Please note this is an 18+ event
We're excited to be working with City Slang's Laura Gibson, creator of one of the best albums of 2016, once again! This time, for a solo show at Gullivers.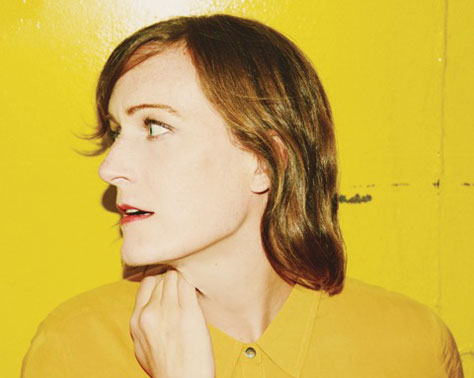 In late summer of 2014, following the release of her highly praised 2012 album La Grande, Laura Gibson packed her things and moved from Portland to New York to study Creative Writing and have some time away from music. For the first part of that journey she took the 'Empire Builder', a legendary train that connects the Pacific North West with Chicago.
Just as she'd begun to feel settled, on March 26, 2015, her apartment building in the Lower East Side blew up from a gas explosion, killing two and injuring many. Laura was unharmed, but lost almost all that she owned and had been working on. All identification, musical instruments, stacks of notebooks, and every word she had written in the past several years was reduced to a pile of rubble.
She spent the next few months rebuilding her life, bouncing between friends' couches and guest rooms, and finishing her second semester, and all the while rewriting the lyrics she had lost, a recovery made possible by the help and support from hundreds of friends, fans and strangers.
Now, she presents her new album, aptly titled Empire Builder, and released in April 2016 through City Slang. Equally raw and focused, Empire Builder captures a life blown open: an individual mid-transformation. Gibson's most personal record to date, it marks a huge leap forward as a songwriter, composer and producer.
She gathered a stellar band of dear old friends: guitarist/bassist Dave Depper (Death Cab for Cutie, Menomena), drummer/percussionist Dan Hunt (Neko Case) and composer/violinist Peter Broderick. Other contributors include Nate Query of The Decemberists and vocalist Alela Diane. Gibson co-produced the record with John Askew (Neko Case, The Dodos), spending her school breaks in his home studio, and in Broderick's studio on the Oregon coast. With Askew's encouragement, Gibson returned to the recordings soon after the explosion. Having lost her guitar, which she had played on every record and show since the beginning, they decided to keep many of the scratch tracks from the original demos, building around them to create the final album.
Within her fiction studies in grad school, Gibson is finding her legs as a storyteller. Amid trauma, loss and recovery, she rediscovered songwriting as a means of understanding her own life and choices. Empire Builder grapples with independence, womanhood, solitude, connection and aloneness. If Gibson has a thesis, it's perhaps within the final words of the title track: 'Hurry up and lose me / Hurry up and find me again.' With clear-eyed honesty, urgency and warmth, Empire Builder succeeds in capturing the moment between loss and rediscovery.
'There isn't a song here that isn't a low-key delight' – Q Magazine
Special guest is Nat Johnson, a singer-songwriter and guitarist based in Sheffield. Nat's work has earned her national press acclaim, songwriting commissions, several live sessions for BBC 6 Music and support from various BBC DJs including Gideon Coe, Lauren Laverne, Steve Lamacq, Tom Ravenscroft, Marc Riley, Tom Robinson and Janice Long.
Nat's first outfit Monkey Swallows the Universe (2003-2008) drew praise from everyone from the Guardian to the Sun with attention focused on Nat's songwriting, lyricism and 'golden' vocals. Highlights for MSTU included performing on Radio 4's Loose Ends and for both Marc Riley and Gideon Coe on BBC 6 Music, touring with Richard Hawley, Camera Obscura and the Long Blondes, appearances at Green Man, End of the Road, Latitude and other festivals and inclusion on Rough Trade's Counter Culture 06 compilation. After MSTU split in 2008, Nat released a solo single Dirty Rotten Soul (Steve Lamacq's Single of the Week on its release) and then formed Nat Johnson & the Figureheads; releasing albums on Damaged Goods / Thee SPC and recording sessions for 6 Music's Marc Riley and Tom Robinson and XFM's John Kennedy.
In late 2014 Nat released a solo album, Neighbour of the Year, on her own label, Straw & Hay Records. Lauren Laverne called it 'a very beautiful record indeed', and Subba Cultcha hailed it as 'a treat for fans of PJ Harvey and Alela Diane'. Two singles were also released from the album: Not Now, Horse and DOG; the latter making an impact on YouTube with its animated video receiving 50k+ views in its first week.
Buy tickets now. Tickets are available from the bar (no booking fee), Piccadilly Records, Vinyl Exchange, WeGotTickets.com, Ticketline.co.uk and on 0871 220 0260.
Attend on: Facebook