James House Berwick St Album release tour
Please note this is an 18+ event
Songwriter and recording artist, James co-wrote Grammy Nominated Country Song of the year "Ain't That Lonely Yet."(Dwight Yoakum) And CMA Nominated Song of the Year "A Broken Wing" (Martina McBride) along with Diamond Rio's number 1 smash "In a Week Or Two" Two of the songs have been awarded the 1 million airplay award by BMI and Broken Wing just passed the 2 million airplay mark.
Other artists to record his songs are, Tina Turner, Olivia Newton John, Rod Stewart, Steve Holy, Sara Evans, The Warren Brothers, Steve Azar, Lori Morgan, The Mavericks, Craig Morgan, Rita Coolidge, Kyle Minogue, Beth Hart, and recently he's been writing with blues guitar legend Joe Bonamassa for his new record.
Born in Sacramento California and raised there and on the family ranch in Southern Oregon, James grew up in a musical family who ranched cattle and grew alfalfa during the day and jammed together on the front porch at night. Just out of high school in Sacramento he started performing as a solo acoustic act and then formed his own group, the House Band that played up and down the west coast eventually landing a record deal with Warner/Curb. The band was renamed Prisoner.
James and the band moved to Los Angeles and went on to release one single before disbanding. "Those were fun times, says James. The label flew us to Muscle Shoals just to record the demos for the album.
While living in LA James lent his vocals on many feature film soundtracks like "Teen Wolf" "Fire with Fire" Ishtar" and "Tin Cup' and recorded his first solo album for Atlantic Records with producer Gary Katz (of Steely Dan fame).
Feeling his country roots calling, in 1988 after hearing some of the records coming out of the new country movement in Nashville James decided to head east. Not long after the move, he was signed to MCA Records, where he began a string of chart hits like "Don't Quit Me Now" and "Hard Times For An Honest Man."
A switch to Epic Nashville produced the critically-acclaimed Days Gone By album and yielded the top 5 hit "This Is Me Missing You," and top 20 singles "Real Good Way To Wind Up Lonesome" and "Little By Little.
In 2012 James co/wrote The Mavericks first single with Raul Malo for their new Valory Records CD. James also wrote two songs, as well as sang harmony, on the latest Bonnie Tyler CD.
In 2013 James started the new indie label Victor House Records.
Releases in 2014 include AV Super Sunshine , Troubadour Kings and James House/Broken Glass Twisted Steel, featuring his newly recorded versions of the #1 hits he's written for other artists.
Broken Glass Twisted Steel was released in April in the US and in July in the UK to rave review. The CD includes "Ain't that Lonely Yet", "A Broken Wing", "In a Week or Two" and more. James followed up that release with a 19 city, 20 SOLD OUT show tour of the UK. In April James made his Grand Ole Opry debut the same week as the album release and was asked to return for an August performance. Both were met with huge fan reaction to his return and new music.
In March of 2014, James will release his follow-up album on Victor House Records entitled "Songwriters Serenade". It features 10 songs co-written with James by some of the most successful songwriters in country music history. James also sings a duet with newcomer Natalie Noone (daughter of famed found of the Herman's Hermits, Peter Noone). He will follow-up the release with a return tour to the UK where he will be a featured writer at the 2015 Belfast Nashville Songwriters Festival, play more than 20 theater & club dates and headline a major country music festival in Scotland in April.
You May Also Be Interested In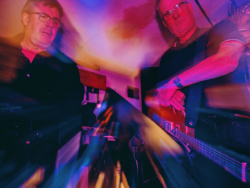 w/ Dark Fidelity Hi Fi + Mindcrime Cafe
Buy tickets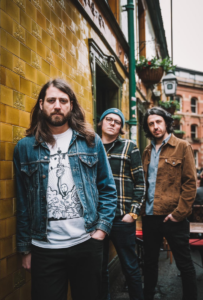 w/ The Be Positives + Springfield Elementary
Buy tickets