Sonnet Music presents Jess and the Bandits
Please note this is an 18+ event
Country music really is a powerful thing. It unites fans, and it brings bands together too. Jess and the Bandits are the living proof.
Frontwoman Jessica Clemmons, the singer-songwriter from Houston, Texas with the big voice and the warm personality, bonded with the four Brits who make up the Bandits over their mutual love of the music. They've turned that shared affection into some of the most accessible country-pop-rock of the last few years
Jessica is the sort of engaging and effusive performer that wins a truckload of new admirers at every performance, not to mention on every recording, hence the response she's had all over the place in her second home on this side of the Atlantic.
The last couple of years have been a whirlwind of successes, with playlist support from BBC Radio Two for a number of their singles, and a wealth of press and TV exposure. Their performance of 'Wichita Lineman' on the late Terry Wogan's Sunday morning show sent social media into a frenzy, with fans demanding the cover appear on their debut album. It did… and matched with twelve equally impressive originals, the album soared to number 3 in the UK Country Chart.
2015 saw the band appear on ITV's Lorraine, Aled Jones' Weekend, Channel Five's The Wright Stuff and Sky's Sunrise show. They signed an endorsement deal with high-street retailers 'Evans' and 'Burtons' and debuted their feel-good single 'Nitty Gritty' in The Independent. Standout performances included The Isle of White Festival, Country to Country and Cornbury, as well as a long-time ambition met… to play Bob Harris' 'Under The Apple Tree' sessions, which they have now done three times.
Having spent the start of 2016 writing with some of Nashville's finest, the band released a deluxe version of their album 'Here We Go Again' in March, with further support from BBC Radio 2, and an appearance with Fern Britton for a special edition of Good Morning Britain, during 'Faith and Beauty in the World Week'. They also performed twice for the BBC's Songs of Praise television show, the second installment featuring an extremely personal interview from Jess about her career and her faith. The band wrapped up their 2016 autumn/winter tour dates with an appearance on Gaby Roslin's Christmas Extravaganza, live on air from The Jazz Café, London.
In the wake of such success, and on returning to the US, Jessica headed back to Nashville to write and record more music. There she collaborated with some of Nashville's most in-demand songwriters and producers and forged what she believed would be the band's strongest record yet. However, in the lead up to the album's release in September 2017 Jessica's hometown of Houston was hit by Hurricane Harvey, and her family's home was badly damaged. Distraught and a long way from home, Jessica postponed her album launch and 14 date UK tour and headed back to Texas to help rebuild. Though it was a difficult few months, 2017 ended on a high note for the fiery Texan, when she wed her true love, after a whirlwind romance, in a beautifully intimate ceremony near her family home.
You May Also Be Interested In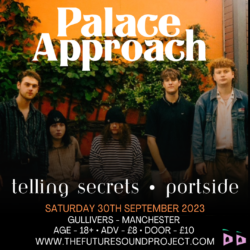 w/ Telling Secrets + Portside
Buy tickets