KATALINA KICKS (ACOUSTIC)
With guests KYE JONES, DEAD 20S, MILES KNOOP & SHANNON BREWBANIT O'GRADY
Please note this is an 18+ event
Katalina Kicks are currently on tour and they are doing a special acoustic set in the lounge area of Gullivers.
They may be doing an acoustic set but that doesn't mean its toned down, their performance is extremely energetic and awesome and you won't be disappointed!
Just £3 on the door!
We have some awesome supports to check out too:
KYE JONES
Kye will be joined by Leon on drums. Awesome two piece, don't be fooled by his acoustic guitar, this guys are loud, bluesy and rock!
Dead 20s
Acoustic duo borne out of Manchester's dirty hard rock/punk scene. Political undertones, tuneful melodies, flowing riffs and precision vocal harmonies is all you need to know! We like to use our lyrics to stand up for what we believe in.
Miles Knoop
Miles Knoop is a country and folk singer songwriter from northwest England
Shannon BrewBandit O'Grady
Awesome solo artist, make sure you get down early to catch her, not one to miss!
You May Also Be Interested In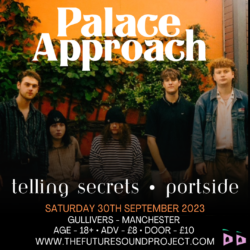 w/ Telling Secrets + Portside
Buy tickets