Love Zombies / The Amorettes
Please note this is an 18+ event
LOVE ZOMBIES (Los Angeles)
A Rock band fronted by Hollis J and Davey. The band mixes punk rock energy and catchy melodies. Hollis has been described as having a stage presence that matches a young iggy Pop.
THE AMORETTES (Scotland)
The Amorettes exploded onto the International Music scene in early 2015, with the release of their acclaimed album, Game On,and debut UK tour, as Special Guests to Rock Legends, Europe and Black Star Riders.With rave reviews coming in from all over the UK and Europe for the Chris Tsangarides produced album, The Amorettes set about building their fan-base with an old fashioned attitude of "Take it to the people!" Touring relentlessly all over the UK and Europe, with the likes of ASH, Thunder, Black Stone Cherry, Danko Jones and GUN. And with incendiary appearances at Festivals in the UK, Netherlands, France and Belgium, The Amorettes show no signs of slowing down as they continue to deliver more of their gritty, punk-tinged Rock 'n' Roll explosion!
You May Also Be Interested In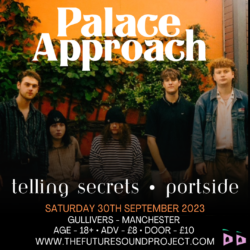 w/ Telling Secrets + Portside
Buy tickets