Mather and Dervish: Funny Side of the Moon
Please note this is an 18+ event
For one night only, on Saturday 3rd November, award winning comedians Kathryn Mather and Hassan Dervish bring their show 'Funny Side Of The Moon' to Gulliver's Lounge in Manchester on their UK tour.
Described as "Dark, sharp, largely unprintable and often downright bizarre" by The Oxford Times, Rochdale born, London based Kathryn Mather is actually quite a nice person. She won the Frog and Bucket World Series in 2017 and was a Circuit Breaker at the Leicester Comedy Festival this year.
Musical comedian Hassan Dervish is fresh back from the Brighton Fringe with his debut show 'What's It All About, Eh?'Born and raised in London, but don't hold that against him – he was a semi-finalist in the 2018 Musical Comedian Award and received an honourable mention at the London-Worldwide Comedy Short Film Festival 2018.
Together they bring you a show that is jam packed with musical comedy of fun storytelling rhymes set to an original soundtrack, along with exciting straight stand up you'll be quoting at work tomorrow. With stories of modern life that everyone will be able to identify with, and dark yet inoffensive jokes that can occasionally veer towards the surreal, this is a show not to be missed.
You May Also Be Interested In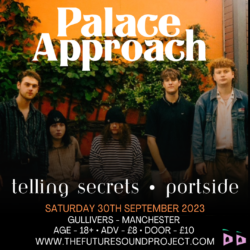 w/ Telling Secrets + Portside
Buy tickets